Musical Meditation

By
.(JavaScript must be enabled to view this email address)
Friday - November 03, 2006
|
Share
Del.icio.us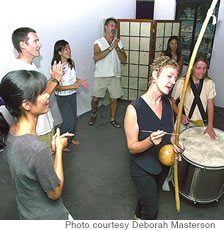 Deborah Masterson (center with instrument)
leads a TaKeTiNa class
Like many of us, Deborah Masterson felt she had too many things to do and too little time to do it all. Life just seemed so rushed all the time.
Then she discovered TaKeTiNa (pronounced ta-keti-na), a musical, meditative group process designed to develop your awareness of rhythm.
"TaKeTiNa has changed my life," says Masterson, a publications manager at the University of Hawaii. "It profoundly changed my way of looking at time. I always felt I had too many things to do at once. But that all straightened out as I became more aware of my rhythm and other people's rhythm around me."
TaKeTiNa was founded by Reinhard Flatischler of Austria about 30 years ago. The meditative exercise consists of a TaKeTiNa circle where people step, clap and vocalize while being led deeper and deeper into the complex world of polyrhythms.
The music comes from a large bass drum and a stringed instrument called a berimbau played at the center of the circle.
Masterson learned about TaKeTiNa from a friend and attended her first workshop eight years ago. Now, she is the only certified TaKeTiNa instructor in Hawaii.
"People of all different levels can come together and do this together," she says. "As for the health benefits, our physical body is made up of all kinds of rhythm - our heartbeat, breathing, brainwaves, our nervous system, etc. We're bundles of rhythmic cycles, and when this gets out of whack then we feel dis-eased.
"TaKeTiNa is something that can help you get in touch with the rhythms in your body. The effect, overall, is this very deep, silent kind of inner calming effect. So, perhaps when you come you have headache, anxiety or you feel disconnected, at the end all of that can clear up."
Learn more about TaKeTiNa at a free introductory workshop on Friday, Nov. 10 from 7 to 10 p.m. at the Ong King Art Center in Chinatown (184 N. King St.).
There also will be a two-day workshop held on Saturday, Nov. 11 and Sunday, Nov. 12 from 10 a.m. to 6 p.m. at the Ong King Art Center.
The two-day workshop will be led by TaKeTiNa instructor Zorina Wolf from Palo Alto, Calif. Cost is $130 for both days.
"You can get a taste of TaKeTiNa on Friday, and then you can really take your time with it at the workshops over the weekend," says Masterson. "People find TaKeTiNa as a pathway for healing and just vital awareness. It's very simple to do, and I feel very drawn to the benefits of it."
Masterson also conducts workshops twice a month on Thursdays. For times and locations or for more information, visit www.geckomoon.com/taketina
Most Recent Comment(s):