Myspace.com

By
.(JavaScript must be enabled to view this email address)
Friday - September 02, 2005
|
Share
Del.icio.us
Forget finding time to exercise. These days, finding time to keep in touch with friends can be just as challenging, even with all the high-tech communication devices available.
But thanks to myspace.com, I've been able to stay up-to-date with some of my best friends halfway across the globe. Plus, it's free and user friendly.
myspace.com, for those who aren't familiar with it, is an online community that lets you stay connected with your friends, lets you meet some of their friends, and allows you to discover some new friends. It's really the hottest networking tool around. According to Tom Anderson, president of myspace.com, there are 242,000 Hawaii residents currently registered with myspace and more than 27.5 million registered users worldwide.
And the myspace family is only growing — and rapidly, with 115,000 new users signing up every day.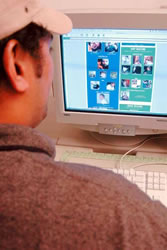 Andy Falelua logs on to
myspace.com where he can
stay connected with his
friends and family
"A lot of the first users of myspace.com were from Hawaii," says Anderson. "I'm not sure why, but it just caught on fast with a lot of Hawaii users. Right now 20 percent of Hawaii's population is on myspace."
The popularity of myspace.com even drove News Corp, the company run by media mogul Rupert Murdoch, to purchase myspace owner Intermix Media Inc. for $580 million last July.
Next for myspace.com is a filmmaker profile and a record label.
"I first heard about myspace.com from my friend Ed," says David Silva, owner of Revolution Motorsports and one of the organizers of local myspace.com parties. "He told me about this site and that I should get on, and I told him that I was way too busy. Then one day I was at his house and poking around with it, and I just got hooked. I think I was on it for two to three hours.
"You can search for people by zip code, high school, e-mail, per 25 miles, and I was just floored by how many people were involved with myspace. I also liked how you can learn about people without meeting them."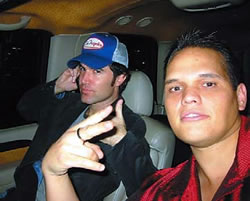 Tom Anderson (left), president of myspace.com,
with David Silva, owner of Revolution Motorsports,
in Hawaii
Silva eventually logged on and created a personal page and a business page (myspace.com/revolution808).
Depending on their creativity level, each myspace user can customize their page with photos, a bio, music, video, art and more. Friends can post comments to each other, send messages and get site-wide bulletins. The website has also become popular with music bands, creating pages to debut their music, provide a calendar of events, and network with fans and other musicians.
"I've been on myspace since about November of 2004, and as soon as I got on I realized how good of a marketing tool it was, and how easy it was to put a flier on there instead of printing up fliers and putting them on people's cars and handing them out everywhere," says Ed Eaton, owner of Sick Dog Promotions. "I have over 4,200 friends on my page (myspace.com), and if I post a flier up, it goes to all those people.
"I'm usually on myspace every day, from morning to night. And sometimes throughout the night, because I work a lot on my computer. It's my homepage on my browser. I use it more than my e-mail account. It's just been a good way to contact people. And you have the power to approve or deny any of your friends, so you make your own atmosphere. It's really up to you on how much info you want to put of yourself on there."
This Saturday (Sept. 3), local myspace fans can meet Anderson at the myspace.com two-year anniversary party at Pipeline Cafe.
There also will be special performances by Scratch from The Roots, Apathy, Direct Descendants, Jonah A.K.A. Mox, local beat box performer Mikee Mic, Kimo and Trace, and more.
The event, to be hosted by Fiji and others, is open to anyone age 18 and older. Cost is $15 at the door. VIP tickets (includes food and entry at 7 p.m.) are available for $25 at Revolution Motorsports. Festivities run from 9 p.m. to 4 a.m.
Most Recent Comment(s):