Never Take Love For Granted

By
.(JavaScript must be enabled to view this email address)
Friday - April 08, 2009
|
Share
Del.icio.us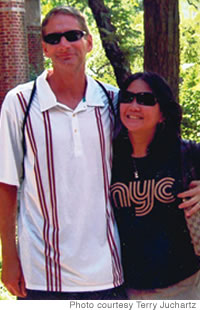 Terry Juchartz and Traci Hirota
So far, 2009 has not been a great year.
We are in an economic crisis with endless reports of people losing their jobs and businesses closing. Recently, a reverend being interviewed on TV said we can make it through these turbulent times as long as we have each other.
But then I thought about my dear friend Terry Juchartz, who recently lost his wife of 10 years, Traci Hirota, to what's being called a medical mystery.
I worked with both Terry and Traci at Niketown Honolulu. They were best friends.
One night the couple dozed off after watching a UH volleyball game on TV. Shortly after, Traci went into a seizure and was rushed to the hospital.
At the hospital, Traci continued to have seizures and doctors could not explain what was causing them. Three weeks later, at the young age of 41, Traci was gone.
"I don't have any regrets on how we lived our life, but there are things I would maybe change," says Juchartz, a tennis professional at Waialae Country Club and tennis/golf specialist at Niketown.
"I wouldn't have worked as much so that I could've spent more time with Traci. I would've tried to have a family earlier. And I would've traveled more.
"You realize how much you love somebody when they're not there. I miss Traci's laugh, her sassiness, her spirit for life and her unconditional love toward me."
Juchartz says he and Traci made an effort to go to bed each night without being mad at each other.
But you also need to make sure you tell each other your feelings - and not just to your spouse, but your family and friends.
"You don't want things to be assumed or unsaid," explains Juchartz. "It takes only 10 to 15 seconds to tell someone you look really pretty and I love you."
Most Recent Comment(s):