Never Too Old

By
.(JavaScript must be enabled to view this email address)
Friday - April 02, 2005
|
Share
Del.icio.us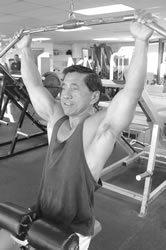 Albert Efhan took up lifting in
rehab after back surgery
Albert Efhan is living proof that you're never too old to start exercising. Or better yet, too old to start bodybuilding.
At age 61, Efhan looks and feels like a 40-year-old. He's healthy, strong, alert and, in gym talk, he's ripped.
Never a gym buff in his younger days, Efhan discovered his passion for weight lifting a decade ago during rehabilitation for an injury to his back.
"I was moving computers from one room to another, and instead of going around the table to pick up the keyboards, I leaned over in an awkward position and picked it up, and all of a sudden I felt this pain," recalls Efhan. "I herniated my disc, so I had two operations and then I had to go to rehab and I liked it. I enrolled in the gym and I told my wife, you know, after all that hours of training and working out, I should try it on the stage."
Along with daily exercise, Efhan also follows a very stringent diet. And he needs to as a contestant in the upcoming Designer Body Spring Break Open Body Building and Bikini Championships happening this weekend at Pipeline Cafe.
With the help of his nephew, Ben Caravalho, Efhan learned what to do and what not to do, what to eat and what not to eat, and what types of supplements to take.
"First he tells me, 'Uncle, don't eat any sugar, no white rice, and no refined flour like bread,'" says Efhan. "So, my diet primarily consists of brown rice, oatmeal and Okinawan sweet potato for my carbs. And flank steak, chicken breast with no skin, and fish for my protein. I pity my wife because she's the one who has to prepare my diet and she has to suffer with me because she has to eat it, too.
"For exercising, he tells me Uncle, you have to do cardio, and then start working on your legs, and then start working on your abs. He points out all my weak points. Fortunately, my body started responding."
It'll be Efhan's fourth bodybuilding competition. He placed second twice and third once in his previous contests. He goes to the gym at least four times a week throughout the year, and every day for the four months he's in competition training mode.
"I normally work two body parts a day for two hours and then at the end I do 45 minutes of cardio," says Efhan. "And I try to go every day, but sometimes if I feel blah I just stay home. I see it as my body telling me to relax.
"I listen to my body. I can't stand when people are at the gym yawning all the time. Don't come and force yourself to do your exercises. Your body is telling you to rest. When you're full of vigor, then come to the gym and work out. And make sure you know the difference between laziness and your being tired. I see guys, they come out to the gym for two months, and then I don't see them anymore. They get lazy."
According to Efhan, the secret to being healthy and fit, at any age, is discipline.
"If you don't have discipline, then you're only fooling yourself," he warns. "Once you can control your discipline then you've got it made.
"Also, for me, I get the help of my wife, Pauline. She's the one who sets me in place. Sometimes I crave certain foods and she tells me no, you have a contest coming up."
Once the contest is over, Efhan returns to his regular schedule, and a few delectables.
"When you're hungry you crave for a certain food and normally it's fattening, and for me, it's pig's feet soup," admits Efhan. "But I haven't tasted it for, holy mackerel, about five months! And I love white bread with peanut butter and jelly. And ice cream. We have this frozen peach pie and I told my wife right after the contest to bake this pie and I want three large scoops of ice cream with it.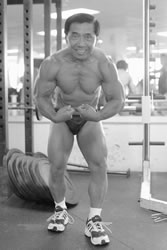 'Your body is like a bank'
"I'm just going to enjoy myself. Once in a while it's OK, but if you have it constantly, that's when your body gets all jammed up because these kinds of foods add to the fat in your system. I tell people your body is like a bank. What you put in make sure you take out because what you don't take out it's going to grow interest on you, and that's the part you don't want to see."
At the upcoming body building championships, Efhan will be competing in the master's division which is open to people age 40 and over. He could be up against bodies 20 years his junior, but he's not worried.
"I'm just going to try my best and have fun," he says. "Some of these young kids, they get impressed when they see me, and then I tell them I'm 61 and they almost fall on their face.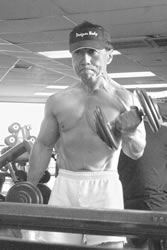 'Not ready for the graveyard'
"And my wife likes that I take care of myself and that I'm not the type walking around like I'm ready for the graveyard.
"I believe old people should be active. Don't do it when it's too late already, when your arthritis and all these other things start setting in. I see some people like that and I tell myself I don't want to be like that. The human body is made for exercise."
Cheer on Efhan and other local bodybuilders at the Designer Body Spring Break Open Bodybuilding and Bikini Championships, 7 p.m., Saturday, April 2 at Pipeline Cafe. Tickets are $25, $20 and $15, reserved seating. For more information, call 591-8854.
Most Recent Comment(s):