Never Too Old

By
.(JavaScript must be enabled to view this email address)
Friday - June 10, 2005
|
Share
Del.icio.us
At age 71, Ed Morishima Sr. is only getting stronger. On Saturday, he hopes to bench press 250 pounds at the World Association Bench Press and Dead Lifters 2005 Hawaii Power Lifting Meet.
And he's not the only Ed Morishima competing. His son, 42-year-old Ed Morishima Jr., also will be on stage. His goal: bench pressing 600 pounds.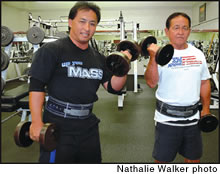 Ed Morishima Jr., 42, and Ed Morishima Sr.,
71, are training for the upcoming World
Association Bench Press and Dead Lifters
2005 Hawaii Power Lifting Meet
"I started weightlifting in 2001 and started competing in 2002," says Morishima Sr., who took up weightlifting after retiring from a career in construction. "When I started I could barely do 45 pounds (which is the bar without any weights), and last week I benched 245 pounds.
"At first your body gets sore, but after a while your body gets used to it, and you get stronger. I never dreamed I would be lifting this heavy. And I never dreamed I would be a world champ. This just shows that people my age can still accomplish things. It doesn't have to be weightlifting and it doesn't have to be a competition, it could be a hobby."
Morishima Jr. and Sr., who are from Hawaii Kai, both became world champs in 2002 and 2004 when they entered the World Bench Press Championship in Reno and won in their age divisions.
"I've worked construction all my life, and as you get older you lose a lot of this strength," notes Morishima Sr. "Before I started weightlifting I played softball, but that's about it. Now, with weightlifting I have more strength, and with that strength you can do more at home. You don't get as tired."
Morishima Sr. says he has high blood pressure for which he takes medication, but notes that it has dropped since he started lifting weights.
"I think he looks different too," adds Morishima Jr. about his buff pop. "He's less flabby. And in the gym, he lifts more weights than some of the people half his age."
According to the University of Iowa Health Care, weight training preserves muscle mass, and if done correctly, improves posture and firms up your body. The more weight you lift, the stronger your muscles become.
"A lot of people give up on things like exercise, and a lot of people wait to get a stroke or a heart attack before they start exercising," says Morishima Jr. "For us, the motivation comes from being with one another. I enjoy coming here to the gym with my dad."
The Morishimas train at the Hawaii Athletic Club two days a week — working on chest and arms on Tuesdays and shoulders and back on Thursdays.
"We work out extremely hard those two days," says Morishima Jr. "We work out for about two hours. We also go walking, and on certain days we work on our legs. As you get older it takes longer for your body to recover.
"Sometimes your body hurts and you feel like giving up, but then you come back in the gym and you get re-energized about the sport. It has to be part of a lifestyle, and for us, competing keeps us motivated in keeping a healthy lifestyle."
Morishima Jr. started weightlifting as a teenager at Kaiser High School, and continued competing until he was 25.
"I won the World Power Lifting Championship in 1987 and broke three world records in bench press," says Morishima Jr. "Then when I reached 40 in 2002, I decided to make a comeback."
Before starting any new exercise program, consult your doctor. And if it's weightlifting you want to get into, consider hiring a personal trainer for at least the first few weeks to learn the right techniques. Also, find a workout partner to help stay motivated.
"I used to come in the morning, and it's hard to train alone," admits Morishima Sr. "It helps to have a partner, especially someone who knows about weight training."
"Weightlifting, for us, is not only good for our health, but you get a sense of accomplishment," adds Morishima Jr. "And you feel good."
Cheer on the Morishimas at the World Association Bench Press and Dead Lifters 2005 Hawaii Power Lifting Meet Saturday, June 11 at the Waikiki Beach Marriott Resort and Spa from 8 a.m. to 8 p.m. Admission is $5, free for children age 12 and under.
Most Recent Comment(s):
Commenting is not available in this weblog entry.