Odd Things We Do As We Sleep

By
.(JavaScript must be enabled to view this email address)
Friday - September 10, 2008
|
Share
Del.icio.us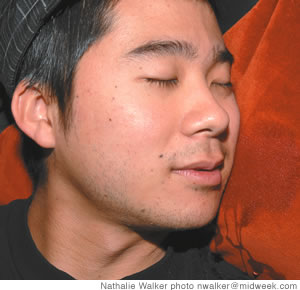 The dreams may be sweet, but the pillow is wet with drool
Sleep is a wonderful thing. But what exactly happens to us while we're asleep? And why do some of us do things, such as drool and snore, while in bed?
OK, I admit it, I'm a drooler. Yes, it's gross, but I'm pretty sure I'm not the only one.
"During the day, we're producing saliva, about a liter a day," says Dr. Roger Yim, medical director for the Sleep Laboratory at The Queen's Medical Center. "But in the day, we end up swallowing it. At night, the amount of saliva we produce decreases, but we don't really swallow as much when we're sleeping. And when you're more tired, your senses are not working as well so the saliva just sits in your mouth.
"Why some people drool more than others, we don't know. However, if you're sleeping on your side or on your tummy, face-down, then you're more likely to drool."
If you're a drooler like me, there's really not much we can do about it. However, the good news is that medically, it's nothing serious, just a nuisance.
As for snoring, I'm a pretty quiet sleeper. My dad, though, is really loud. When I was a little girl, I used to record him so that he could hear himself when he was up.
Snoring is common, with almost half of adults snoring at least occasionally, according to the Mayo Clinic. But unlike drooling, it can be more than a nuisance; it could be a sign of a serious health problem.
"Snoring occurs from the tissues at the back of your throat that vibrate as you breathe," explains Yim. "People who are overweight may have excess tissue back there. Also as you age, the tissue becomes more flappy. And children tend to snore because their tonsils and adenoids are enlarged."
If you snore and want to stop, Yim suggests sleeping on your side, losing weight and avoiding alcohol, because alcohol relaxes the muscles, which can cause that tissue to flap more.
People who snore loudly and are tired in the day (even after a full night's rest) may want to get checked by their doctor, because snoring can be a sign of obstructive sleep apnea, a potentially dangerous sleep disorder in which you repeatedly stop and start breathing in your sleep.
"Ninety-nine percent of people who have sleep apnea will snore," notes Yim. "And half the people who snore have sleep apnea."
Then there's sleepwalking, or somnambulism, which usually occurs when a person is in a deep sleep. While it's more common for children, some adults also can experience this.
"About 5 percent to 10 percent of the population sleepwalk regularly," says Yim. "We're not sure of the cause of sleepwalking. For children, they usually grow out of it when they hit adolescence. And adults who sleepwalk probably did it as a kid.
"Medically, it's not really a problem. It becomes a problem if the person is sleepwalking outdoors."
There are five stages of sleep, with each cycle lasting about 90 to 110 minutes.
Stage 1 and 2 are considered a light sleep (with slow eye movement and muscle activity), and Stage 3 and 4 a deep sleep (with no eye movement or muscle activity). The fifth stage is known as REM (rapid eye movement) or dreaming sleep, because this is the period when most dreams occur.
"When you're sleeping, you're letting your muscles relax," says Yim. "Your metabolism slows down and your brain function slows down.
"Sleep is important because it gives your body time to rejuvenate and relax. If you're not getting enough sleep (the recommended amount is about eight-and-a-half hours a day), it can lead to a whole range of medical problems, such as fatigue, your immune system not working as well, your metabolism not working as well and obesity."
The other night I was watching my 11-month-old sleep. He looked so peaceful, but then, out of nowhere, he started smiling and even let out a little giggle. It was really cute, but also somewhat bizarre at the same time.
In next week's On The Move, Yim talks about dreams and nightmares. Where do they come from and why do we have them?
Most Recent Comment(s):