Oh Good Grief, A Gray Hair!

By
.(JavaScript must be enabled to view this email address)
Friday - July 20, 2011
|
Share
Del.icio.us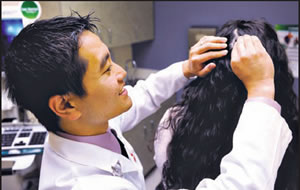 Dr. Robin Matsukawa says pulling out one white hair won't cause you to have more. Lawrence Tabudlo photo

.(JavaScript must be enabled to view this email address)
A few years ago I discovered my first white hair and I was horrified. I wasn't even 30 yet. These days, it's become a weekly, almost daily ritual.
And with my dark-colored mane, having just one tiny strand of white hair sure sticks out like a sore thumb. So, I can't help but pull it out, even though I've heard that doing so will cause more to appear.
"That's actually a myth," says Dr. Robin Matsukawa, an internal medicine physician at Straub Mililani. "That particular hair will grow back white, but it doesn't necessarily cause multiple follicles to grow."
So, what causes white hair? Matsukawa says generally it's genetics, so knowing when your parents or grandparents first started turning gray may help you to predict your chances of early graying.
"We're born with a certain number of stem cells and those produce melanocytes, which produce melanin, which give our hair its color," explains Matsukawa. "Once the melanocytes die off, you're unable to produce color.
"Also, malnutrition, so not eating the right diet, can cause hair to be more prone to losing its color due to a decrease in production of melanin. Thyroid diseases, iron deficiency and skin infections also can cause graying of hair.
And studies have shown stress to appear to be a factor for graying of hair, and tobacco smoking may cause premature graying."
Unfortunately, graying happens to everyone no matter if you're healthy or what color your hair is. It's just part of life, and there's nothing we can do to prevent, slow or stop the process.
"There may be products out there that claim it can reverse the graying, but I'm not aware of any hard evidence that would promote that," says Matsukawa. "If (your white hair) affects your quality of life to the point where it bothers you, coloring it would be one thing to do."
Last year, some salons in Honolulu began offering Loreal's new form of permanent hair color called INOA (Innovation No Ammonia). It's a great solution, especially for those concerned about the possible adverse effects from the chemicals used in traditional hair dyes.
"Gray hair is actually not gray at all; it is transparent because it is void of any natural colorant," says Joe Randazzo, owner/stylist at J Salon. "Many times gray hair will have a different texture from naturally colored hair, even on the same head. Gray hair tends to be coarser, wiry and even brittle. This makes it particularly difficult to color completely, especially on a client with very resistant gray hair.
"We have found that the oil delivery system in INOA is able to penetrate into non-pigmented hair much better than traditional permanent hair color, and provides beautiful coverage in even the most resistant gray hair, whereas permanent hair color can leave a translucent or stained result."
Most Recent Comment(s):