Okey-dokey, Tokidoki

By
.(JavaScript must be enabled to view this email address)
Friday - January 05, 2007
|
Share
Del.icio.us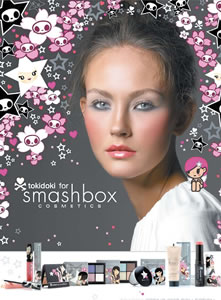 Limited edition Smashbox Cosmetics
featuring Tokidoki by Simone Legno
If you follow fashion, chances are you've seen, heard or maybe even own one of those cute, colorful, cartoon-ish-looking bags from LeSportsac, specifically the popular Tokidoki print designed and co-founded by artist Simone Legno.
But there's more to Tokidoki than flowers, stars and happy faces. "Todidoki means 'sometimes' in Japanese, because everyone waits for moments that change their destiny," says Legno, who was born and raised in Rome and currently lives in Los Angeles.
"Tokidoki is the hope and hidden energy everyone has inside that gives us strength to face each new day and dream that something positive, something magical will happen to us."
This spring, Tokidoki teams up with Smashbox Cosmetics in launching a limited edition collection available at all Sephora stores and Nordstrom.
And in celebration of Tokidoki for Smashbox, Legno will make a personal appearance at Sephora Ala Moana on Friday, Jan. 12 from 1 to 4 p.m.
Also on Jan. 12, Smashbox and Sephora makeup artists will be offering mini makeovers with the new Tokidoki for Smashbox line between noon and 6 p.m. Call 944-9797 to book your appointment.
According to Legno, the Tokidoki design was inspired from the way he sees things.
"My mind is trained to transform things that are around me," he explains.
"For example, I look at the shape and try to convert it into a character. And, of course, there's the inspiration from my travels.
"With Tokidoki, there's a great inspiration from Japanese iconography and objects, and its characters. I'm very passionate about Japan. I go there all the time."
The limited edition Tokidoki for Smashbox collection includes lipsticks, eye shadows and blushes. It was released earlier this week, and some stores have already sold out.
"We feel pretty blessed that Tokidoki is doing so well," says Legno. "Now, we are developing a full clothing line, shoes and accessories."
Most Recent Comment(s):