On The Move

By
.(JavaScript must be enabled to view this email address)
Friday - January 13, 2006
|
Share
Del.icio.us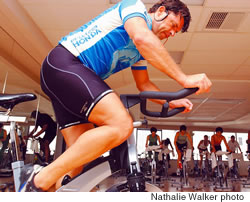 Raul Boca will lead the upcoming SpinFest, a
12-hour indoor cycling marathon to benefit the
Epilepsy Foundation of Hawaii
Spin in support of the Epilepsy Foundation of Hawaii at its second annual SpinFest at the Honolulu Club on Friday, Jan. 27 from 6 a.m. to 6 p.m.
The 12-hour indoor cycling marathon will be hosted by spin instructor and multisport trainer Raul Boca and the Honolulu Club spinning staff. The fundraiser is open to club members and the public with a suggested donation of $20 per hour. Corporate team sponsorships are also available.
Epilepsy affects about 15,000 people in Hawaii. The EFH's mission is to help educate the public and erase the stigma sometimes associated with the condition.
"There are a lot of various stigmas associated with epilepsy. For one, it is not an uncommon belief that it is a sign of possession," says Dr. Alan Stein, president of the EFH and director of epilepsy at the Queen's Medical Center. "For example, the movie The Exorcism of Emily Rose was about a woman with epilepsy attempting to be treated with exorcism instead of being treated appropriately with modern-day medicine. Other stigmas include that everybody with epilepsy is mentally retarded, that epilepsy is contagious, and that epilepsy is a sign of mental illness.
"Epilepsy is a condition in which people suffer from recurring seizures. And these seizures can be caused by different things, including infections in the brain, head injury, stroke, brain tumors, scar tissue on the brain that for various reasons develop mental abnormalities, and heredity. Many things can cause seizures, and simply having seizures is by definition epilepsy."
According to Stein, there are over a dozen medications available on the market to treat epilepsy, as well as implanted electronic devices and special diets. And for cases that don't respond to the medication, brain surgery is often an option.
SpinFest is a kick-off event to Sharon's Ride, the EFH's annual national outdoor bike/run/walk fundraiser. In Hawaii, Sharon's Ride takes place on Sunday, Jan. 29 at Kapiolani Community College, featuring a 10, 40 or 100 kilometer ride along Honolulu's southeastern coastline or a 5k run into Diamond Head. To register for Sharon's Ride, call 528-3058.
"Cycling is a really good exercise because you don't have hard impact like running," says Boca, who has been teaching spinning at the Honolulu Club for the past eight years and also teaches cycling at his shop/training program Boca Hawaii. "Spinning is a great alternative to riding a bike. You do have the feeling of riding a bike, but it's not the same. You're indoors and it's a little bit of a different system.
"Depending on how hard you work, you can burn between 500 and 1,000 calories in a one-hour spinning class. You're working your legs and core and your upper body as well (from moving the handle bars). It's a full-body work-out. And it's easy. People can learn to spin in a few minutes."
Participants in SpinFest can spin from one to 12 hours. A post-spin reception featuring wine, cheese, prizes and live music will be held in the Honolulu Club lounge immediately after the event. To reserve a space, call 543-3910. For general information on the Honolulu Club, call 543-3937 or visit www.honoluluclub.com
The EFH is a local chapter of the National Epilepsy Foundation of America, and a chartered member of the Aloha United Way. For more information, visit www.hawaiiepilepsy.com
Most Recent Comment(s):