On The Road To Keiki Seat Safety

By
.(JavaScript must be enabled to view this email address)
Friday - August 27, 2008
|
Share
Del.icio.us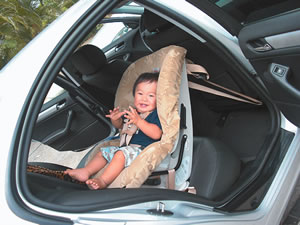 Happy Koen in his car seat
As a new mom, I have found that other parents are always wanting to share their advice and experiences with me.
I love hearing their many stories and welcome any tips they have, but sometimes all that information can get confusing.
For example, when it was time to install our infant car seat, one friend said it was best to put it in the middle of the back seat. Another said it was better to put it behind the passenger seat.
One auntie told me I needed to buy toys that attach to the car seat to keep baby entertained. While another auntie said I must never attach any toys to the car seat.
The most recent dilemma was when my baby turned 6 months and outgrew his infant car seat. We needed to buy a new one, which, when you're an indecisive Libra like me, can take much longer than it needs to. Then, by weight (he now weighs 25 pounds), he fits the weight requirement for the car seat to be forward facing or rear facing, but which way is it?
My sister-in-law said she read it should be rear-facing, while a co-worker said that it's OK for it to be forward-facing.
And installing the car seat correctly can be another complicated task. It's no wonder that 90 to 95 percent of keiki car seats inspected by the Keiki Injury Protection Coalition (KIPC) car seat technicians are installed improperly, according to Katie Barbieto, nurse manager and car seat technician instructor at The Queen's Medical Center.
"The most common mistakes we see are that the seat is too loose, the harness on the child is too loose, and the parent is using both the latch and the seat belt when only one should be used," says Barbieto. "Also, we recommend for the baby to be rear-facing for minimally 1 year of age because it provides more support."
Wanting nothing but safety for my baby on the road, I decided to have my car seat inspected. Sure enough, I had it all wrong.
According to Barbieto, the middle of the back seat is the best spot for the baby seat because it offers more protection. However, some cars (such as the one pictured) only have latches on the out-board seats, so in that situation it should be in back of the passenger seat because more often there's nobody in that seat.
As for toys, nothing should be added or attached to the car seat. Instead, give your baby loose soft toys to play with in the car. Also, mirrors that attach to your back seat and sun shades that attach to your window are a no-no.
"These are hard objects that can fly off and hurt your child," explains Barbieto. "Instead, tint your windows or put a film on it."
Also, never use a second-hand seat unless you know its history.
Each month, The Queen's Medical Center, in partnership with KIPC, hosts a free child safety seat checkup. The September event is already full, but interested parents can register for the Oct. 8 service by calling 537-7117. Technicians are available from 1 to 4 p.m., by appointment only.
A keiki car seat fitting also will take place at Children's Day, Oct. 5, behind the Department of Health building (on the corner of Beretania and Punchbowl streets) from 10 a.m. to 2 p.m.
KIPC also sponsors child safety seat inspection stations at other hospitals throughout Oahu. For more information on volunteer opportunities and a schedule of upcoming keiki car seat fittings, visit www.kipchawaii.org.
Most Recent Comment(s):