Overcoming Anorexia

By
.(JavaScript must be enabled to view this email address)
Friday - December 22, 2006
|
Share
Del.icio.us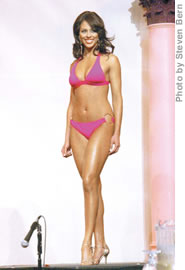 Chanel Wise, newly crowned Miss
Hawaii USA 2007, won both the
swimsuit and evening gown
competition during the Miss Hawaii
USA pageant held on Dec. 17 at the
Sheraton Waikiki
Newly crowned Miss Hawaii USA Chanel Wise is one of those girls you love to hate. She eats and eats and eats, but doesn't gain any weight.
She credits genetics for her skinny fortune. But food, as the 5-foot-8-inch 124-pound model will tell you, was not always her friend.
When she was a sophomore at St. Francis High School, Wise was so busy she often skipped meals. Between school, sports (paddling and volleyball) and day-to-day teenage life, she found herself drinking a lot of soda and grabbing quick, small bites of not so healthy foods.
Soon, family and friends started making comments to Wise about how thin she was. They also noticed that she wasn't her usual peppy self, and were concerned about her health.
Then, in her junior year, Wise was diagnosed with anorexia.
"I didn't think I was fat, and I wasn't intentionally starving myself," explains Wise, 21. "I was too busy to eat and that caused me to burn a hole in my stomach and I was not able to eat.
"When you fall into that anorexic stage, there's a chemical (serotonin) in the brain that is triggered and the disease takes over your body. I was tired all the time, always sleeping, my hair became thin, I was feeling depressed, I started to have heart problems and cramps, and I was hyperglycemic, the stage below diabetes.
"Overcoming anorexia is not easy. There were so many days that I would cry. My mom would even sometimes sleep with me because she was afraid that I wasn't going to wake up the next morning."
With the help of a nutrition-ist, and the support from family and friends, Wise eventually overcame the horrible disease.
Today, she's a sophomore at Kapiolani Community College studying criminology, and working part time as a Polynesian dancer for Malu Productions. Her career goal is become a crime scene investigator.
And since being crowned Miss Hawaii USA last Sunday (Dec. 17), Wise says she plans to raise awareness on eating disorders and to help people overcome the disease.
"I wanted to be Miss Hawaii USA because I want to be a role model to young women," she says. "And I felt that if I won a title, I would have more of an impact on people.
"So many girls try to lose weight and by the time they realize they're too skinny, they don't know how to get out of it. It makes me sad because I know what they're going through because I went through it, and I want to be there for them. I want them to know that it's OK and they can beat it. I did."
Now, Wise makes it a priority to eat breakfast, lunch and dinner, with some snacks in between. She also exercises daily by running and going to the gym.
"Exercising is not only good for your body, but it also helps you to feel better throughout the day," says Wise. "One thing that I learned (from anorexia) is that it's really important to make sure you make time for yourself and to make time to eat! And eat healthy meals."
In preparing for Miss Hawaii USA, Wise worked with personal trainer Matt Jones. For four months, they met three times a week, spending half-an-hour a day on cardio exercises and an hour on weight training.
The rest of the week she would run on her own for half-an-hour a day.
Matt's wife, Alicia Michioka Jones, a former Miss Hawaii USA, also met with Wise throughout the week to help with mock interviews and wardrobe selection.
"Before training for the pageant, I would go to the gym sporadically," says Wise, who is Hawaiian, Portuguese and Chinese. "But having a personal trainer is completely different because you have someone constantly pushing you and motivating you.
"When we started I was 124 pounds, and I just wanted to get toned. So we started training and I ended up gaining weight, up to 130 pounds. But we felt I was a little too bulky, so Matt helped me rip down a little bit and I went back down to 124."
As for her favorite health and beauty products, Wise lists acai bowls from Robeks and Dasani water, of which she drinks five 16-ounce bottles a day.
She also likes to use Paul Mitchell shampoo, and Arbonne foundation and eye shadow, which she gets from mom Nadine, who is an area manager for Arbonne International.
Her favorite foods include Thai curry, Italian food and her grandma's homemade spaghetti. And she loves sweets.
"I was still able to enjoy my sweets while training for the pageant, but as it got closer then I had to cut it out completely," says Wise. "That was hard, especially with Thanksgiving and the holidays around the corner. But it just depends on how bad you really want something, so I would just tell myself that if you really want this you won't eat this, and it worked.
"Pageants are a great way to give you confidence. My advice for girls who are thinking about entering a pageant is that if it's their dream, then they should go for it. Anything is possible. For me, my parents told me to just be myself and to go out there let the Lord shine through me."
Most Recent Comment(s):