Pearls Of Wisdom

By
.(JavaScript must be enabled to view this email address)
Friday - February 03, 2006
|
Share
Del.icio.us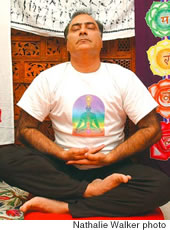 Raj Kumar
"I believe that health is order and disease is disorder. A body is healthy when the mind is healthy, and the mind is healthy when there is a balance in life." - Raj Kumar
After a near-death experience in 1998, Raj Kumar healed himself through "ancient wisdom, methods and techniques." Today, he continues on that spiritual journey and believes that others can benefit from it as well.
His latest book, Pearls of Wisdom for Everyday Living, reveals some of the simplest things people can do for a healthy, happy life. Many of these thoughts are common sense, but always nice to be reminded of. And most important, they promote a positive change in the way we live.
"It's an inspirational and spiritual book," says Kumar, who works as a healer, wellness counselor, motivational speaker, and yoga and meditation instructor. "Most of these thoughts have come to me through divine guidance. This book is full of practical knowledge, and people can find the answers to their life's problem in this book.
"I believe that a good beginning always has a good end. If we begin our day with a little prayer and with a good spirit, we can be very conscious, centered and happy during the day's activities and we can get the most out of the day."
Pearls of Wisdom for Everyday Living offers 365 "spiritual thoughts for the day." Some of these inspirational thoughts include:
* Eating is a joyful activity. Food nourishes our body, mind and soul. Do not crave for tasty or spicy food. Crave for healthy food as our thoughts and emotions are directly affected by the food we choose and the way we eat. God gave us 32 beautiful teeth. Eat, chew and bite your food at least 16 times as this increases concentration, patience and aids in digestion.
* Whenever you read, type or watch something on TV, it puts pressure on the nerves of your eyes and mind. Blinking your eyes rests the eye muscles, nerves and mind. Eyes are the window of the soul and a precious part of the human body. Always keep them clean and rested.
* Excessive work, deadlines to finish projects, lack of money, lack of sleep and environmental stresses disturb and affect our peace of mind. These things create stress in our life. Stress weakens our ability to concentrate and affects our immune system, which further affects our organs and body. In order to reduce the stress of the mind, reduce the stress of the body through relaxation, exercise, good sleep and massage, and then reduce the stress of the mind through prayer, positive affirmation, and meditation.
Kumar, who was born in India and moved to Hawaii in 1989, received his Ph.D in clinical psychology. In 1998, he suffered severe back and chest pain, and after numerous doctor visits and medical tests, underwent open heart surgery.
"On the day of surgery many people prayed to save my life, including several monks in a Hindu temple on Kauai," recalls Kumar. "When I was recovering from the surgery at Queen's Hospital I meditated regularly for five days, and the answer that came out of meditation was that I should go into healing practice and help and heal others."
In 2000, Kumar opened a healing center called New Life Center, and released his first book, From Darkness To Light. Then in 2004, he released his second book, The Secrets of Health and Healing.
Kumar's books are available at Barnes and Noble, Native Books Na Mea Hawaii at Ward Warehouse, India Emporium, and Serendipity bookstore on South King Street.
Pearls of Wisdom for Everyday Living can also be found online at www.amazon.com or www.barnesandnoble.com or www.cosmicyoga.net
You can also meet Kumar at his upcoming book signings:
* Thursday, Feb. 9 from noon to 1 p.m. at the Queen's Women's Health Center
* Saturday, Feb. 11 from noon to 1 p.m. at Native Books Na Mea Native Hawaii
* Sunday, Feb. 26 from 7 to 8 p.m. at the Film Fare Festival at the University of Hawaii (Spalding Auditorium), which includes a film on Ayurveda (science of life) from 5 to 7 p.m., as well as lectures by Ayurvedic physician Kishir Sagar, Dr. Tmar Hoffman and Kumar.
Most Recent Comment(s):
For all comments click here.