'People' Salutes Mililani Man's Loss

By
.(JavaScript must be enabled to view this email address)
Friday - January 12, 2011
|
Share
Del.icio.us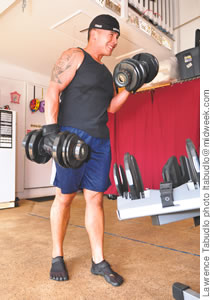 Dallas Carter works out six days a week
It has been two years since Dallas Carter of Mililani lost half his weight. But he's still getting big attention for it.
This week, he's in People magazine's "Half Their Size" issue, which features five people and their success stories on losing weight with no pills and no surgery.
In the article, Carter, 28, is quoted, saying, "My story is one of cheating on my wife (Monica), but with food."
The problem, he explains, was not what he was eating at home, but what he was consuming outside.
"I'd eat breakfast at home, and then on my way to work I'd go to McDonald's and get two or three extra breakfast sandwiches and soda," he says. "And on the way home from work, I'd go to McDonald's again or Burger King or a plate lunch place to eat, and then go home and have dinner with my wife."
Carter says the turning point came five years ago when his daughter, Mariah, was born. At his heaviest, he weighed 365 pounds, and it took him three years to get to a weight of 177 pounds, which he has been able to maintain for the past two years.
How did he do it?
"I had a very precise diet of five very small meals a day, and I worked out six days of the week," he explains. "When I first started working out it was very hard; after four or five minutes I'd say forget it. Slowly but surely the weight started going off and I did more and more exercise."
'People' magazine contacted Carter for its special 'Half Their Size' issue
His workouts consisted of the P90X training program, as well as hiking and playing basketball.
He eliminated white carbohydrates (including white and brown rice, bread, tortillas and crackers) from his diet.
"For every meal I eat, I choose one thing from three food groups: protein (such as Eggbeaters, chicken, steak, bacon), legume (such as refried beans) and vegetables (like green beans)," says Carter, a 2000 graduate of Kamehameha Schools. "I eat that way throughout the whole week and the cool part is on Saturdays, it's called 'break day,' where I don't follow any rules and I eat whatever I feel like, so ice cream, Kit Kat - I love Kit Kat - and chocolate chip cookies.
"But I don't just pig out for the sake of pigging out. I just don't think about it."
Carter admits he's been on the bigger side most of his life, so the transformation has been a life-changing experience in many different ways.
First, there's the $250,000 he won from Beachbody's Million Dollar Body Game in 2008. Of course, there are the health benefits. And then there's the social aspect.
"Life now, it's really interesting," he notes. "To be honest, a lot of it has to do with the way people treat me. When I was big, no one gave me the time of day. Now, I think it's a subconscious thing, but people treat me better. I get smiles instead of blank stares. The girls at the cashier flirt with me instead of just kind of rolling their eyes. Not that I was searching for that, it's just an observation I'm making.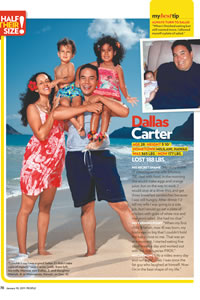 'People' magazine contacted Carter for its special 'Half Their Size' issue, and photographed him with wife Monica and their children Dallas, 2, and Mariah, 4
"And it's really interesting because I'm still the same person. So I can empathize with those in that situation. I understand what it means to be really big, and I understand the struggles."
While his weight may have had a negative social effect on him growing up, Carter says as he got "bigger and bigger" it became less of a self-esteem or self-image issue and more of a health concern.
"My family has a history of obesity and people have died from ailments directly attributed to being unhealthy," he says. "Now, a lot of them are losing weight too. My whole family got healthier because they had to adapt to support me. It was a family sacrifice in many ways, but we all benefitted from that change."
Even people outside of his family were inspired, and that eventually led to a career change as well - leaving his job as a teacher at St. Joseph School in Waipahu, which he loved, to coaching others in achieving their health goals.
"The key to losing weight is to have a lifestyle change, and then you have to maintain that same lifestyle," adds Carter.
For more information on Carter's weight loss and coaching services, visit www.808fit.net.
Most Recent Comment(s):