Perfecting Movement With Parkour

By
.(JavaScript must be enabled to view this email address)
Friday - August 31, 2011
|
Share
Del.icio.us
Hawaii Parkour welcomes the public to move and play with them while cleaning up Ala Moana Beach Park every Sunday in September at 10 a.m.
According to Ozzi Quintero, founder of Parkour Hawaii, parkour is a method of moving from A to B in the most efficient way possible by only using the natural abilities of the human body.
You may have seen it performed in movies such as Casino Royale and 13th District. I think of Spider Man running, climbing and jumping his way through town minus the webs.
"I've always been inspired by movement," says Quintero. "The reason I really like parkour is because it not only teaches us how to get in tune with our bodies and what we're capable of, but it also, through the training, repetitions and the groundwork, teaches you how to put your fears aside so that you can use those fears to stay focused rather than (to think) stop, don't do this. Therefore, it also helps you to develop that same mindset in how you flow through life."
For the first Sunday (Sept. 4), the group will meet at Magic Island, and then each following week they will move west into the park. Guests will get an introduction to parkour and a bag to pick up trash in the area.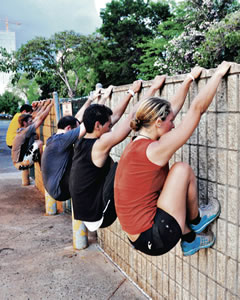 Parkour students including Leanne Jenkins (front in red tank) at Ala Moana Beach Park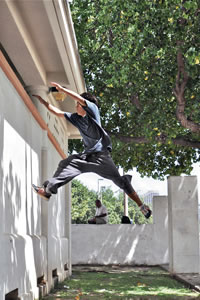 Matthew Jang. Photos by Ed Davis
Quintero also conducts classes and a boot camp at Ala Moana Beach Park Monday through Thursday.
"During our classes, I'll see a bunch of trash and when we go for a little jog, I'll pick up the trash and try to introduce this idea that if we are going to play in this area, then we want to try to make it not harmful to ourselves," says Quintero, who is originally from Venezuela. "If we go somewhere to train, we should leave it better than it was when we came.
"So, if I see trash, I'll pick it up. But the next day I come back and it's like I didn't pick up anything."
For more information, visit hawaiipk.com.
Most Recent Comment(s):