Picking The Best Fruits, Veggies

By
.(JavaScript must be enabled to view this email address)
Friday - December 24, 2008
|
Share
Del.icio.us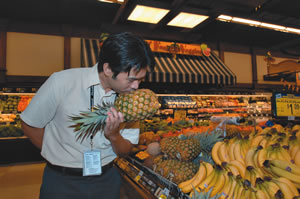 Chang says to pick up the pineapple and smell it for sweetness
I can be a really indecisive person. So much so, that I take way too long shopping for things.
For example, for a recent holiday party I volunteered to bring fruits, thinking that it would be something fast and easy to do.
It should've been, except that it took me an hour just to buy the fruits. No, there were no long lines and I wasn't stuck in traffic.
I'm just adamant about finding that perfectly round orange or that spotless banana. And I can never decide among the red, green or pink apples.
But does it really matter? And what's the difference?
Keoni Chang, corporate chef at Foodland, gives us some advice when shopping for fruits and vegetables.
Apples - Pick up the apple and it should feel evenly firm all around. Also, when you push on the skin with your thumb, it shouldn't wrinkle.
The two most popular types of apples are the Granny Smith green apples (which typically have a tart taste) and the Washington Red Delicious apples (on the sweeter side).
The Fuji apple, which is really popular with Hawaii residents, tastes like a blend between the two.
Pineapples - Look for pineapples that are not shriveled (an indication they're old). Also, pick it up and smell it. The aroma is a good indicator of the level of sweetness.
Bananas - A banana that starts to show light brown spots is ripe for consumption. Just because there are spots on the outside doesn't mean it's bruised inside.
Carrots - Smaller carrots tend to be sweeter and more tender than bigger carrots. Therefore, if you're using carrots for cooking, such as for a stew or soup, the bigger ones may be better because you can cook them longer before they get too soft.
Also, stay away from carrots that have a green or dark shoulder as this is a result of the carrot being exposed to the dirt and development of chlorophyll from the sun.
Tomatoes - When you feel the tomato, it should have a light give. Also, vine-ripened tomatoes (with the stem still on it) tend to be sweeter. If it's for a salad, cocktail or grape tomatoes are the best.
Oranges - The best way to know if an orange is good is to taste it. Look for one that has a really deep orange color. Also, it should feel dense and full. An orange that feels spongy could mean that there's more pith (the white stuff between the orange and the skin) to it.
Cantaloupes - Look for one with a funny bald spot. Who would've thought, right? That spot means it's been sitting out on the field a long time and getting a lot of sun, which makes it sweeter.
For melons in general, if it's sticky on the outside, it's a good sign that it's a sweet one as the stickiness comes from the sugar inside.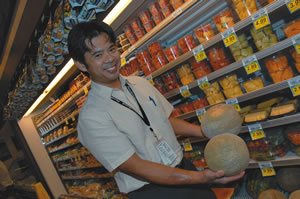 Foodland corporate chef Keoni Chang looks for sticky cantaloupes with a 'bald spot'
Avocado - When you push an avocado with your thumb, it should give a little. Depending on variety, a darker brown one is ready to eat, and a green one needs about a week.
Asparagus - Look for ones with tightly knit buds. Also, buds should not be rotting, shriveled or wrinkled (all an indication that it's old). Asparagus with smaller stems are more tender.
Mushrooms - Look for mushrooms that are white and not open (on the bottom). Also, they should feel dry and spongy, not wet or slimy.
Cabbage - When you hold the cabbage, make sure it does-n't feel spongy as that could mean that there's a lot of air inside.
Corn - Don't let your corn sit, the longer you wait, the less sweet it'll be.
Broccoli - Choose one with a darker, light purplish, blue haze. This is the color of younger, fresher broccoli. Older broccoli will often show yellow, blooming flower buds.
Leafy Greens - In general, leaves should not be wilted or look limp.
Potatoes - Potatoes should be firm. Also, stay away from green potatoes as the color is a sign of high levels of solanine, which is toxic. If you do find green on your potato, don't worry, just make sure you peel it off.
Berries - For berries that come already packaged, turn the container upside down and make sure it's not moldy on the bottom.
"In general, when shopping for produce, it should feel plump and not wrinkling," says Chang. "If you're ever in doubt, at Foodland you can taste it before you buy it.
"Also, if something is in season, it will probably be in our ads offered at a great price. And because it's in season, it would be at its peak in flavor."
Most Recent Comment(s):