Pilates And The Body Of A Dancer

By
.(JavaScript must be enabled to view this email address)
Friday - March 07, 2007
|
Share
Del.icio.us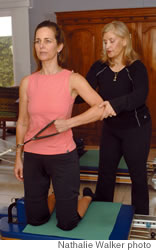 Suzanne Sutherland with Stott
Pilates instructor Zohreh
Ellison
I recently sat through a Stott Pilates class by Zohreh Ellison of Lanikai Pilates and was immediately inspired.
First of all, the two students before me - one is 46, the other is in her early 50s - both had better looking bodies than any of my 20-something-year-old friends.
"I've always been thin, but now I feel sculpted," says Suzanne Sutherland about the changes Pilates has made to her body. "Also, I used to be hunched over, but now I'm not. And I have more mobility."
Her classmate is also quick to point out that "she looks stronger without looking beefed up, and her hips and legs are a lot narrower."
Sutherland, who started taking Stott Pilates classes two-anda-half years ago, practices Pilates two to three times a week.
According to Ellison, a certified Stott Pilates and yoga instructor, benefits of Pilates include:
* relieves back pain * improves flexibility, joint mobility and lengthens the body
* relieves stress and stress related disorders
* builds strength without adding bulk
* corrects the body coordination, balance and alignment
* oxygenates the blood releasing endorphin
* helps prevent osteoporosis * flattens abdominal muscles and restores natural posture
* isolates, activates and conditions deep muscles
* develops strength, flexibility and endurance
* improves athletic performance
* builds core abdominal and back strength
Many of today's hottest celebrities endorse Pilates, including Oprah, who even showed off some of her favorite Pilates moves on one of her shows.
For Geri Cvitanovich, Pilates has has helped with a recurring injury and she feels "great."
"My body seemed like it would always get out of alignment during my travels or just my daily life," she says. "So my goal was to improve that with regard to flexibility and strength and to reduce the pain that I was experiencing all the time.
"I was really quite amazed and felt a difference right after day one. The results really speak for themselves and I got results the very first day."
Cvitanovich, who is also a student of Ellison, says that with pilates she feels more relaxed, and has more flexibility and strength. And it shows.
"I'm excited because I've always loved the look of a dancer's body, and I think it's the most beautiful and graceful activity," she says. "The dancer's form is very beautiful, and I can see that I could probably create that for myself through Pilates.
"Most importantly, I didn't feel sore. I just felt a feeling of wellness and goodness."
The Pilates method was created by physical trainer Joseph H. Pilates in the 1920s.
Today, many gyms or work-out centers offer different types of Pilates classes, such as the traditional method or the Stott method.
The Stott Pilates method was developed by former professional dancer Moira Merrithew, and features a contemporary, anatomically based approach to Joseph Pilates' original exercise method.
The Stott Pilates method focuses specifically on breathing, pelvic placement, rib cage placement, scapular movement, and head and cervical spine placement.
There's also the popular Winsor Pilates, created by Mari Winsor, a longtime professional dancer and teacher who now owns and operates two Pilates studios in Los Angeles. Her list of celebrity clients include Sandra Bullock, Patrick Swayze, Vanessa Williams and Sharon Stone.
The testimonials are endless. Maybe it's time for your own.
Remember, consult with your physician before starting any new exercise program.
Most Recent Comment(s):