Playing Makahiki Games In Waikiki

By
.(JavaScript must be enabled to view this email address)
Friday - January 20, 2010
|
Share
Del.icio.us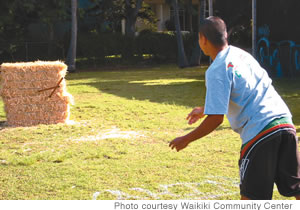 Makahiki games include the o'o ihe, or spear throwing
Basketball, football and baseball - these are some of the common sports played today involving skill, coordination and physical strength.
But before the NBA, NFL or MLB, native Hawaiians participated in other physical activities, such as the makahiki games.
This Sunday (Jan. 24) Waikiki Community Center will host its 25th Ala Wai Challenge, a free fun-filled community event celebrating the ancient sports of Hawaii's past.
The event takes place from 8 a.m. to 1 p.m. at the Ala Wai Neighborhood Park and Clubhouse and features outrigger canoe racing and ancient Hawaiian makahiki games.
There also will be a variety of hand-made Hawaiian crafts, free entertainment, food vendors and fun activities to learn how to create a "green" and sustainable community, and the traditional poi hand-pounding.
Participants also can make their own smoothies by peddling a bicycle-powered blender, and the Friends of Hokule'a and Hawai'iloa will demonstrate building an outrigger canoe (hands-on).
The Hawaiian makahiki games include many different activities, such as heihei (foot races), holua (sledding) and hakoko (wrestling). As for the makahiki games to be played at the upcoming Ala Wai Challenge, they are the 'ulu maika (bowling a round stone through pegs), o'o ihe (spear throwing), moa pahe'e (dart sliding), pohaku ho'oikaika (stone throw) and huki kaula (tug of war).
According to Jeff Apaka, director of community relations at the Waikiki Community Center, the makahiki games take place during a four-month season between October/November to February/March. In ancient Hawaii, this was a time when the Hawaiian people gathered to celebrate the harvest, the spirit of Lono and compete in games.
Waikiki Community Center provides a variety of services to the people of Waikiki, an early childhood education center; physical, social and educational activities as well as counseling and case management of older adults; a food pantry for the homeless; and a variety of other needed services. Its mission is to enrich and improve the physical, social, emotional and spiritual needs of the diverse people of Waikiki through multigenerational on-site and outreach programs and social services. Together with its on-site partner agencies, the center serves approximately 15,000 people each year.
For more information on the Ala Wai Challenge or the Waikiki Community Center, visit http://www.waikikicommunitycenter.org or call 923-1802.
Most Recent Comment(s):