Poisons From A Neighbor's Stogies

By
.(JavaScript must be enabled to view this email address)
Friday - January 21, 2009
|
Share
Del.icio.us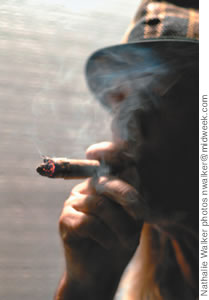 Cigar smoke carries the same toxins as cigarette smoke, plus it stinks
I live in an apartment with a neighbor who regularly smokes cigars. While the Hawaii Smoke-Free Law says you can't smoke in an enclosed or partially enclosed place of employment as well as places open to the public, it does not cover smoking in your own private environment.
My problem is that the smoke from my neighbor's cigar travels out from his unit and into ours, where we have a 15-month-old baby. I think most people (smokers and non-smokers) know the dangers of firsthand and secondhand smoke from cigarettes. But how about cigars? And should I be worried about my baby breathing this in?
"Absolutely, secondhand smoke from cigars is dangerous," says Julian Lipsher, program manager for the Tobacco Prevention and Education Program for the state Department of Health. "Cigars are still a tobacco product. In size, they are quite a bit larger than a regular cigarette, and there's a far greater amount to smoke. Also, it's more concentrated and it's certainly more pungent.
"And certainly you (as a parent) should be concerned because, for infants and young children, their lungs and respiratory system are developing, and exposure to secondhand smoke clearly is not good for them."
OK, so secondhand smoke is not good for me, and especially not good for my baby. But I can't just go to my neighbor and tell him to stop smoking.
Or can I? "Given that the law does not apply, you can't," answers Lipsher. "However, you can ask your neighbor politely to smoke in an area where the smoke doesn't come into your unit and explain to them why.
"If that doesn't work and the person says, 'I'm sorry but I can do what I want in my unit,' then you can bring this up to your condominium association and find out if you're the only one who is bothered by this, and oftentimes you're not. Then see if the board is willing to take any action to amend their governing rules."
According to Lipsher, 430,000 Americans die each year from tobacco-related illness.
According to the American Cancer Society, secondhand smoke from cigars contains many of the same poisons and cancer-causing agents as cigarette smoke, but in higher concentrations.
"I think that we've gone beyond thinking that secondhand smoke is just a nuisance," says Lipsher. "It's not. It's a clear health hazard, and I think Hawaii's Smoke-Free Law recognizes that."
Owners or tenants who are interested in creating a smoke-free domestic environment, particularly if they're in an apartment or condo, can get more information on how it can be done by visiting www.tobaccofreehawaii.org.
Or if you want help to stop smoking, call 1-800-QUIT-NOW.
Most Recent Comment(s):