Promoting Beauty Inside and Out

By
.(JavaScript must be enabled to view this email address)
Friday - March 05, 2008
|
Share
Del.icio.us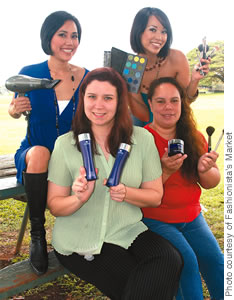 Fashionista's Market co-founders Emi Hart and Alyssa Fung with makeover recipients Jenny Seguritan and Paulette Kuahulu
You've probably heard the saying before, beauty comes from within. Well, yes, I agree.
But I also believe that it's just as important to take care of yourself on the outside. When you look good, you feel good.
In an effort to empower women and to help them feel beautiful about themselves, Fashionista's Market co-founders Emi Hart and Alyssa Fung are giving full makeovers to two victims of domestic violence.
"For me, this makeover gives me a voice," says Jenny Seguritan, one of the two recipients selected for the makeover.
"The abuse happened when I was a teenager (about nine years ago), and I can't help but wonder how many other girls are having this happen to them.
"When it was happening to me, I was too prideful to say to people that I was being hit. And I was afraid. But now I know that in order for me to completely heal and for me to help other people, I need to talk about it and not hide anymore."
Seguritan feels that this beauty makeover has given her a reason to hold her head up, something that she hasn't done in years.
"Whenever something happened in the news (relating to domestic violence), I wanted to say something but I would put my head down," says Seguritan. "So for me, this makeover is giving me a chance to say something. To say that it's not right.
"And I feel that taking care of yourself (on the outside) is so important because, especially for women, we have so much going against us. And that first impression can make all the difference in the world."
Seguritan, along with Paulette Kuahulu, will receive dental cosmetic makeovers from dentist Dr. Russell Masunaga, full facial rejuvenation treatments from Q Laser Center, a haircut and color styling from Hairscapes, "A New You" spa package from Heaven on Earth Salon & Day Spa, apparel from Fashionista's Market, a year's supply of Body Mint, and a full line of hair and beauty products from Alterna Professional Hair Care and Skin Ceuticals.
The public will get to meet the two makeover recipients in a before-and-after presentation at the Fashionista's Market The Ultimate Girl's Night Out event at the Ala Moana Hotel Friday (March 7) from 6 to 10 p.m.
The event also will feature designer deals at 50 to 80 percent off retail from Fashionista's Market (brands include Tokidoki, Harajuku Lovers, Ed Hardy, True Religion, Paige, C&C California, Frenzii, Jully Kang and more), free beauty makeovers and massages by Heaven on Earth Salon & Day Spa, free service from the Alterna booth to the first 1,000 ladies (hair analysis, consultation and hands-on hair styling tips and tricks using Alterna Luxury Hair Care products and a line of revolutionary professional flat and curling irons and blow dryers), free Alterna gift bags for the first 1,000 (featuring Alterna Caviar Anti-Aging Sea Silk Shampoo, Conditioner and Instant Repair, ($30 value), professional teeth-whitening kits courtesy of Dr. Russell Masunaga ($89 value), and automatic entry to win one of 10 gift certificates for a complimentary hair style).
Also, guests will be served Bacardi cocktails and Asti mini champagne splits (with premium ticket purchase), treated to a free facial analysis by Q Laser Center, and shop for fashions at discounted prices from local designers Roberta Oaks, Ginger 13, Muumuu Heaven, Tsang & Mai, Theo SF, Silpada Designs and more.
Tickets cost $25 and $35 pre-sale (available online at www.fashionistasmarket.com), and $30 and $40 at the door.
A portion of the proceeds will benefit Chicks With Checks. For more information, e-mail .(JavaScript must be enabled to view this email address)
Most Recent Comment(s):