Putting Your Best Face Forward

By
.(JavaScript must be enabled to view this email address)
Friday - May 21, 2008
|
Share
Del.icio.us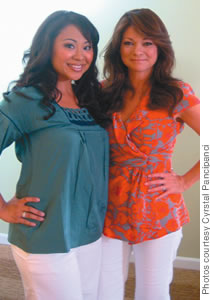 Crystal Pancipanci with Valerie Bertinelli
Whether we want to admit it or not, sometimes we could use a little help with how we look.
When you look good you feel good, which is why it's important to regularly update your style.
Fashion, hair and makeup stylist Crystal Pancipanci has become one of Hawaii's favorite pro to go to for beauty makeovers.
As fashion editor at MidWeek, I'm usually the one behind the scenes coordinating models, clothes and styling. So, it was a nice change when I was asked to be featured in an upcoming issue of HMM magazine (Hawaii Mrs. Mag). Pancipanci was there to give me the full makeover, and it was an amazing experience.
She made me feel beautiful, something I admit to not having felt in a long time. I blame my lack of sleep for the bags under my eyes and the five minutes I usually have to get ready for the blah hair and makeup job I give myself each morning. I constantly use my busy schedule and being a new mom as excuses, but I've decided to put that all to an end.
In the last couple of years, I've realized that if you don't take care of yourself, both inside and out, you will look a lot older than you really are. And that does not feel good at all.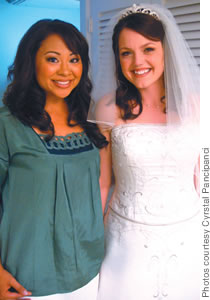 With bridal dream makeover recipient Heidi Quinn
On Tuesday, May 20, the public will get to see Pancipanci's talented hands at work as she teams up with actress Valerie Bertinelli in giving a dream bridal makeover for Heidi Quinn of Mahanoy City, Penn. The show was filmed at Turtle Bay and will be featured at 3 p.m. on the Rachel Ray Show on KGMB9.
On the show, Quinn shares her inspiring weight-loss story and reshoots her wedding photos with husband Warren, to whom she's been married for three years.
Pancipanci also served as key makeup artist for Bertinelli's new Jenny Craig ad campaigns, which also were filmed in Hawaii.
Pancipanci's top beauty tips:
* Always use a sunscreen moisturizer.
* If you don't wear foundation, consider using a concealer.
* Learn how to use different products to accentuate your natural features and personality. Her favorite: Nars Blush/Bronzer Duo in Laguna/Orgasm, Laura Mercier mineral powder for foundation, MAC Fluidline Eye Liner Gel and the Shu Uemura eyelash curler.
Most Recent Comment(s):