Raising The Bar For Training

By
.(JavaScript must be enabled to view this email address)
Friday - November 16, 2011
|
Share
Del.icio.us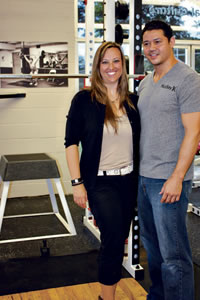 Chani and Matt Elam of Atletika Institute of Physical Culture. Photo courtesy Chani Elam
Former University of Hawaii defensive lineman Matt Elam has opened an exclusive movement education facility in Kapolei called Atletika, offering Olympic weightlifting, sports enhancement, personal training, martial arts, and fitness and dance (both as classes and one-on-one training).
"Whether it's a stay-at-home mom or a lawyer or high-caliber athlete, my goal is to help him or her reach their full physical potential," says Elam, 35. "When people come in for personalized training, we do an analysis of their movement and see if there are any problems that would exclude them from certain movements, and then we customize a movement package for them. We also have a martial arts component and a dance component."
The facility, located at 91-1021 Shangrila St., Building 965, is equipped with Samson weight equipment (which is used by numerous Division I colleges, NBA and NFL teams, and even in the White House) and includes an Olympic weightlifting platform and custom designed dumbbells with a thicker handle, allowing you to strengthen your grip while lifting. There also are a 53-foot-by-6-foot strip of premium Field Turf for sprint training drills and technique instruction to ensure proper sprint biomechanics, Mike Swain martial arts mats, and a "Sweatbox" with a Wing Chun dummy, Muay Thai bag, body object bag and easy curl bar.
For dance and fitness classes, there's a floating activity floor from Sweden complemented by a wall of mirrors.
"Atletika has always been a part of me," says Elam, whose father Reid was a strength coach at Oregon State and has trained NFL teams and astronauts for NASA. "After football, I pursued my master's degree in exercise physiology, earned three black belts in martial arts, got my massage license and studied sports training."
Elam, who finished his UH career with a victorious season in 1999 under head coach June Jones, also played briefly in the Canadian Football League and played for the Arena Football League.
He also trained as a Sambo wrestler at the Institute of Physical Culture in Moscow, Russia, and competed in Olympic weightlifting becoming Hawaii state champion in the heavyweight division under Tommy Kono.
"The secret (to working out) is in repetition, you can't get away from repetition," says Elam. "My favorite (tool), my best friend in physical culture, is the barbell. You can do so much with it in such a short period of time. But you have to learn to do it right, if not, you'll get injured.
"Also progression is important. People want strength and weightloss quickly, so what they'll do is throw heavy weights on and push their body and a large percent of them get injured. They go right to the muscle but they need to strengthen the tendons and ligaments first."
In addition to sports performance and personal training, Elam also teaches Russian Sambo, Hapkido and Jeet Kun Do. Other classes offered (and taught by Atletika faculty) are Wing Chun, Brazilian JiuJitsu, hip hop, breakin', ballet/tap, pom, jazz, jazz/acrobatics, yoga, salsaerobics and Zumba.
Hours are by class schedule or appointment. Fees range from $80 to $130 (depending on the frequency) for martial arts classes, $10 to $15 per class for dance classes, and $75 per session for one-on-one personal training (discounted packages available, as well as military discounts).
For more details, visit atletikatraining.com or call 674-4454.
Most Recent Comment(s):