Rapelling Down 31 Floors In Waikiki

By
.(JavaScript must be enabled to view this email address)
Friday - October 14, 2009
|
Share
Del.icio.us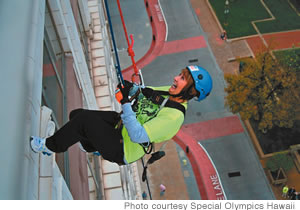 The public is invited to rappel down the Sheraton Waikiki Nov. 13 in support of Special Olympics Hawaii
Stephanie Zane has been involved with Special Olympics since she was 8 years old, playing softball, basketball and swimming.
Now, at age 42, she continues to challenge herself in these sports and credits the organization with helping her to make new friends and for keeping her healthy.
"My favorite thing about being in Special Olympics is seeing a lot of different people from the other islands and other countries," says Zane. "And being able to be an athlete. I practice on Sundays for basketball and also softball, and if we didn't have any coaches (who are all volunteers), we would be bored without them. They help us out a lot."
Special Olympics Hawaii provides sports training and athletic competition for more than 2,000 children and adults with intellectual disabilities across the state. The programs are provided to its athletes free of charge.
However, like many charities today, Special Olympics Hawaii is projecting a significant operating deficit of more than $100,000 for this fiscal year, which jeopardizes its ability to provide its athletes with a venue to compete.
According to Special Olympics Hawaii development manager Kyle Karioka, this financial shortfall is due to a combination of things, including less government grant money, as some of their grants will not be renewed next year, and fewer corporate grants because many corporations are having to scale back their sponsorships.
"I've seen a lot of what our programs do for our athletes," notes Karioka. "Not only does it help with their motor skills and their everyday life skills, but it also helps them with their social skills by allowing them to make new friends.
"It also provides them with a venue to overcome challenges and really thrive in a way that they may not in other venues. It gives them great pride and accomplishment, and you really can't measure that value in dollars. But we can't bring that to our athletes without the money, and that's why we need fundraising and that's why we're sending people down a 31-story building."
That building Karioka is talking about is the Sheraton Waikiki, which will host an innovative fundraiser allowing participants to rappel 31 stories down the landmark hotel.
"Over the Edge of Waikiki" takes place Nov. 13. Participants must be at least 18 years old, weigh less than 300 pounds and raise a minimum of $1,000 for Special Olympics Hawaii.
As of last Thursday, 86 people have signed up, and Karioka says they are looking into opening a third rope line to accommodate another 30 to 40 people.
"We were looking for something unique, and 'Over the Edge'is a great fit for our program because we're about our athletes pushing themselves to overcome their challenges," adds Karioka.
"And in this event we're asking people to do the same by leaping off a tall building while raising funds for our athletes."
For more details or to register for "Over the Edge of Waikiki," visit http://www.specialolympicshawaii.org or call 943-8808.
Most Recent Comment(s):
For all comments click here.