Reflexology

By
.(JavaScript must be enabled to view this email address)
Friday - April 16, 2005
|
Share
Del.icio.us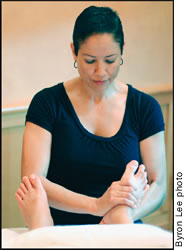 Armida Morales of Aveda Salon &
Spa at Ala Moana Center
I have many different ways of relaxing. Usually it's surfing, sleeping and eating. That is, if I even have the time to relax. But I've recently discovered a new way to calm my senses — reflexology.
"Reflexology is working the different energy points on the feet and hands that correspond with the glands, organs, and other parts of the body," explains Armida Morales, spa team lead, massage therapist and aesthetician at Aveda Lifestyle Salon & Spa at Ala Moana Center. "It helps to release tension. It gives you a relaxed feeling … flowing, calm, almost perfect."
Reflexology can be used on people of all ages. Originally known as reflex zone therapy, reflexology involves pressure and massage of different reflex points found on the soles of the feet and the palms on the hands.
If you're looking for tension relief, you can learn to do reflexology on yourself through workshops and/or books.
For overall relaxation, a reflexology spa treatment is recommended. And for any serious or specific conditions, you should see a professional reflexologist.
"Reflexology helps improve circulation and reduce stress," says Morales. "You can also work certain internal organs through the feet. There are different lines of energy within our body that end in our feet and if it gets stagnant, reflexology can help release the blockage."
The history of reflexology dates back to ancient Egypt, India and China. In 1913, Dr. William Fitzgerald, an ear, nose and throat specialist in Connecticut, became interested in zone therapy and prompted other American doctors to explore the use of reflexology. Then in the 1930s, therapy assistant Eunice Ingham further researched and developed the practice into what is now known as reflexology.
My first reflexology experience was at Aveda Salon & Spa at Ala Moana Center. The session started with aromatherapy and a foot bath.
Then, as I lay in a dimly lit room with soothing music in the background, the reflexologist started stretching my neck, ankles and lower legs. Next, she did a pressure point massage on my toes and feet using Aveda botanical oils, followed by an aqua salt foot scrub, and then a warm hydrating mask, followed by aromatic hot towels.
While my feet were masking, she gave me an arm and hand massage using Aveda hand relief. And then, after removing the mask, she applied a blue oil composition which consists of peppermint and blue chamomile which is both soothing and energizing.
Finally, she did a tapping on my legs and feet to help energize me after the treatment.
"Reflexology is very balancing," says Morales, who has been practicing reflexology for about five years. "We add the foot scrub and mask as an enhancement. And we use aromatherapy to help with the relaxation. At the end of the session we reconnect the body from the toes to the head."
Every spa experience is different. Not all reflexologists perform the same routine, nor do they use the same lotions and oils.
"When working on yourself, press down at a pressure that is tolerable," advises Morales. "And first you need to believe in it. Some people may be skeptical. They think, why just work on my feet when I can work on my body? But by working on your feet, you are working on your whole body.
"I say try it once, and see what you think."
Below are charts of the different pressure points in your hands and feet.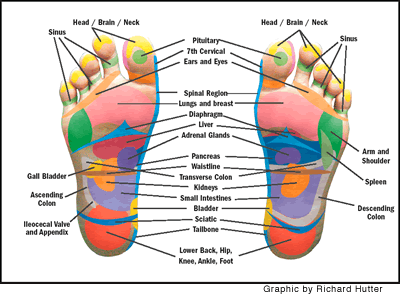 Now, give yourself a massage, and feel your entire body relax.
Most Recent Comment(s):