Return Of The Keiki Fun Run

By
.(JavaScript must be enabled to view this email address)
Friday - April 20, 2011
|
Share
Del.icio.us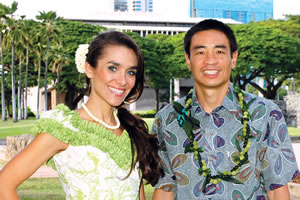 Elite runners Candes Meijide Gentry and Jonathan Lyau serve as spokesmodels for the Honolulu 5K. Photo courtesy Pacific Sport Events & Timing
When the popular Nike 5K For Kids came to an end as a result of the closing of the Niketown Honolulu store in October 2009, the folks at Pacific Sport Events & Timing decided to start the Honolulu 5K - scheduled for May 1 at 7 a.m. at the Frank Fasi Civic Center in downtown Honolulu.
The race consists of a ChampionChip timed 5K race, as well as a fun, untimed 1-mile keiki run/walk. Net proceeds from the event will be distributed to participating schools statewide and be used to help enhance and improve the physical education, play and athletic programs within the schools. The start of the race will be at the State Capital building with the finish on Punchbowl by Honolulu Hale.
Pacific Sport Events & Timing, headed by Jon and Arlene Emerson and Steve Foster, was the race timing company hired for the old Nike 5K For Kids in Hawaii, and they witnessed how much the schools benefitted from this single event. So, with the help of the law firm Cades Schutte, they created the Honolulu 5K, a 501(c)(3) nonprofit organization.
"We were really interested in keeping this going," explains Arlene Emerson. "It's a nice way to give back to the community."
Participants can select which school they would like their money to go to, including schools on the Neighbor Islands.
In the 10-year run of the Nike 5K, Maemae Elementary School was consistently the top school with the most participants.
"We received a total of more than $50,000," says Matt Nakamura, a counselor and student activities coordinator at Maemae. "We used the money for PE equipment. Also, we're part of the Roosevelt complex, so when Roosevelt refurbished their track, we started a track meet for our fifth-graders and sixth-graders called the Maemae Invitational Track Meet. We also have a mileage club at recess where kids can walk or run around the playground and earn little tokens they can put on their shoes. And we do intramural sports for the older kids, such as basketball and volleyball, and invite other schools for mini tournaments.
"So we were disappointed at first (about the end of the Nike5K), but we understood. And then we were happy when other organizations stepped up to kind of fill the void."
For local running legend Jonathan Lyau, the Honolulu 5K is more than just another running event.
"I have two kids now (7-year-old Sierra and 4-year-old Spencer), and I think if we can teach them and get them into some kind of a healthy routine when they're young then hopefully they will keep doing it when they're older," says Lyau, who has been the top local-born finisher at the Honolulu Marathon from 1993 to 2004 and again from 2006 to 2009, and also won the Great Aloha Run in 1994 and 2002. "My wife Kelli and I are always outside with the kids, taking them to track meets and cross country meets, so we're setting an example at home and hopefully they receive it at school too because if the schools don't have PE then the kids don't think it's important. So the Honolulu 5K is a good way for the schools to get money to help support their physical education programs."
Cost for the Honolulu 5K For Kids is $20 and includes a T-shirt and finisher's medal. Packet pickup will be at Sports Authority (Ward) April 28 from noon to 7 p.m., Sports Authority (Waikele) April 29 from noon to 7 p.m., and at the Frank Fasi Civic Center April 30 from 10 a.m. to 5 p.m.
For more information or to sign up, visit honolulu5k.org.
Most Recent Comment(s):