Returning To Familiar 'STOMP'ing Grounds

By
.(JavaScript must be enabled to view this email address)
Friday - December 16, 2009
|
Share
Del.icio.us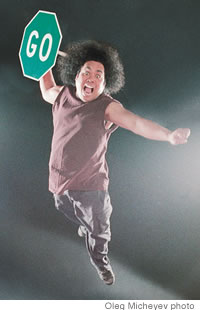 Andres 'Pooh' Fernandez in 'STOMP'
On tour with STOMP for the last 12 years, local boy Andres "Pooh" Fernandez returns to Hawaii this week for two weeks of performances Dec. 22 through Jan. 3 at the Hawaii Theatre.
Fernandez, a 1992 graduate of Radford High School now living in Las Vegas, is one of eight performers in the popular high-energy percussive hit show.
The troupe is on tour all year-round throughout North America, which keeps Fernandez on the move both on stage and off. There also is an ongoing sell-out Off-Broadway production at New York's Orpheum Theatre, and two productions overseas - a London company and a European tour.
"The show is physically demanding, but we have a lot of fun doing it," says Fernandez, 35. "We do sweat a lot. After the show, we're like great show, yeah, but let's just not hug right now.
"So we're exercising and having fun and getting paid to see the world. It's a wonderful job and I don't want to leave."
Fernandez, whose background is in singing and dancing, joined the STOMP tour in 1997 after his older brother Johnny encouraged him to audition for it.
He was then given the nickname Pooh after wearing a Pooh shirt and hat during his first week on tour.
"I think STOMP has been very successful because it's inspirational," he says.
"There's no language barrier. Everyone can relate to it, and it makes the audience feel like they can create rhythm and make music, too."
Fernandez says his favorite number in STOMP is the one called Bags because it sums up the whole show.
"There's a guy and two girls pulling trash out of the trash bags and making music," he explains. "And I really appreciate this number the most because it shows how music is in everything. We can create music with everything, whether it's a box or plastic bag or regular Coke can."
Fernandez, whose last visit to Hawaii was three years ago, says he is most looking forward to the food during his visit.
"I can't wait - the Hawaiian food, the Filipino food from Mabuhay (on River Street) and Soon's meat jun in Salt Lake, it's the best meat jun ever," says Fernandez. "Also, the manapua and pork hash from Char Hung Sut (in Chinatown). I'm probably going to put on some weight when I'm there."
The performance schedule for STOMP is Tuesday through Friday at 8 p.m., Saturday at 3 and 8 p.m., and Sunday at 3 and 7 p.m. There also will be a performance on Monday, Dec. 28, at 8 p.m. and no performance on the evening of Dec. 24.
Tickets to STOMP cost $35, $45 and $55, and are available at the Hawaii Theatre Box Office, by phone at 528-0506 or online at www.hawaiitheatre.com.
Most Recent Comment(s):