Rochelle's Routine

By
.(JavaScript must be enabled to view this email address)
Friday - December 01, 2006
|
Share
Del.icio.us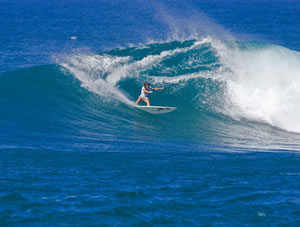 Rochelle Ballard is competing in the Roxy Pro Hawaii at
Sunset Beach through Dec. 6
Professional surfer Rochelle Ballard loves her job.
This week, her office is Sunset Beach. Her assignment: the Roxy Pro Hawaii, an event in the Vans Triple Crown of Surfing.
But there's more to her responsibilities than just catching waves, getting barreled and doing fancy roundhouse cutbacks and floaters.
After the contests and away from the cameras, Ballard continues to work - and it shows.
At 35, Ballard is one of the oldest on the women's tour, but she is also one of the fittest.
Standing at a petite 5-foot-1 and weighing only 105 pounds, Ballard takes her training seriously.
"I swim every day unless the waves are junk or I'm super tired," says Ballard. "And on a regular basis, I love to swim and run on the beach, and mountain bike."
She also does yoga, biosync, goes jet skiing and has a personal trainer helping with core training exercises. And occasionally you'll find her at the beach, rock running underwater, cave diving, or swimming through the channel at Sunset Beach.
"My role models, my motivation, is my network of people who are so good at what they do," says Ballard, who has eight ASP (Association of Surfing Professionals) Women's World Tour wins and a 2004 title runner-up finish. "With a team you can do anything, and the better the team you have the more you're going to accomplish. It also takes your ego out if you're allowing others to help you to be the best you can be."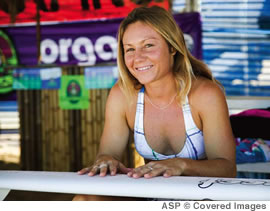 Surfing pro Rochelle Ballard works hard to stay fit
Rochelle's training team:
Surfing coaches: Miguel and Cody Graham, and Doug Silva
Yoga teacher: Brenda Fried Personal trainer: Stephanie Lay
Biosync: Kent Ewing Aerobics teacher: Bobby Knott
Bookkeeper: Cora Sanchez The team also includes a chiropractor and sports counselor.
"My bookkeeper is part of my
training team because if it wasn't for her I'd actually be in chaos, and I wouldn't be able to surf and do everything I do as a pro surfer," explains Ballard. "I wouldn't be able to enjoy my life and do my job, which is surfing, and being healthy and fit. My bookkeeper eliminates the stress out of my life."
A typical day for Ballard, who served as a stunt double for Kate Bosworth in Blue Crush, consists of coffee and an acai bowl in the morning followed by a surf check and, if the waves are good, a surf session. Then, it's back home for some yoga and possibly a workout. After that, it's time for more surf and/or hanging out with friends.
"Ideal conditions for me is six to eight feet and barreling off shore with sick lefts and rights, and nobody out but my friends," says Ballard, "and with big walls so you can tear the crap out of it."
Rochelle's diet:
* A lot of salads, vegetables and fruit.
* A variety of fish, steak and chicken.
* Supplements and a multi-vitamin from Pure Prescriptions.
"I eat a lot of food, but I stay away from sugars and preservatives and processed foods," she says. "Being an athlete, I think it's important to have meat because it's protein, but I eat
veggie meals a lot too."
* Dark chocolate. "I eat dark chocolate like it's going out of style, but it's good for you too because it has antioxidants."
Rochelle's top beauty picks:
* Kukui nut oil. "I use it on my face at night before bed."
* Malie products. "I'm a fan of them."
* Lancome tinted moisturizer sunscreen.
* Shiseido sun protection stick foundation.
Rochelle's beauty tip: Apply leave-in conditioner to your hair before you go in the water and immediately after you rinse off after surfing.
"Your hair will feel way better," she says. "It keeps your hair from getting the frizz bitz - the surfer hair that's all ratted out with split ends."
Catch Rochelle Ballard and other top women surfers at the Roxy Pro Hawaii at Sunset Beach now through Dec. 6. The men's O'Neill World Cup of Surfing is also at Sunset Beach now through Dec. 6.
Then it's the men's Rip Curl Pro Pipeline Masters at Banzai Pipeline and the women's Billabong Pro at Honolua Bay on Maui from Dec. 8 through 20.
Contest to be held on the four biggest and best days of waves. Call 596-SURF (7873) or check www.triplecrownofsurfing.com for updates.
Most Recent Comment(s):