Running Barefoot In The Marathon

By
.(JavaScript must be enabled to view this email address)
Friday - January 04, 2012
|
Share
Del.icio.us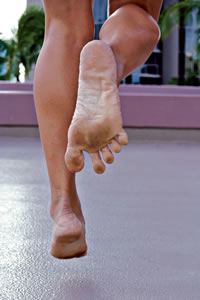 Barefoot running is a trend with purists. Nathalie Walker photo

.(JavaScript must be enabled to view this email address)
It was interesting to see all the different types of shoes people wore for the Honolulu Marathon last month.
Most chose the traditional running sneaker, while some preferred a more minimal option: running 26.2 miles barefoot! Also on the road were those FiveFinger toe shoes, and there were even at least a couple of runners in the Japanese elevated wooden slippers called geta.
Usually a running shoe has some level of cushioning, support, breathability and is lightweight. I personally love my shoes to be as light as possible, and one of my favorites is the Nike Free running shoe that was created to mimic barefoot running. However, for a long-distance run such as a marathon, I usually go for something with a little more cushioning. And if it's a short run on the beach, I won't lace up at all.
But with so many different options for just running shoes alone, it can be difficult to select the right pair. And as far as barefoot running goes, is that something we should even be doing?
"Typically, I'm one to believe if there was a perfect world, people would be wearing the appropriate sneaker for every particular person," says Dr. Grace Pascual, chief podiatry representative at The Queen's Medical Center. "Not everyone has the same foot type, even from right to left foot, so for me to actually say this is what you need to wear wouldn't necessarily work on every particular person. They'd have to have a proper examination.
"For those FiveFinger toe shoes, I recommend for my patients who are purists, who like to run barefoot, that's what I recommend for them because you still need to cover your feet.
"We weren't born with shoes, so this is where the purists come in and say you're supposed to run and walk barefoot. I'm not a purist because I've seen too many deformities and problems with shoes and without shoes, so it really depends on the particular individual. If they feel comfortable and their feet don't hurt when they're barefoot, then it's probably better to at least put something on. But if you start to feel pain, it's your body's way of telling you that it's not the right footwear for you. I have seen foot and ankle sprains, strains of the arches, and tendonitis from people wearing those types of shoes."
According to Pascual, there are four layers of muscles at the bottom of our feet, as well as a layer on top. And those muscles, just like all the other ones in our body, need to be exercised.
"Typically you get that worked from everyday walking around the house," says Pascual. "Your normal walking will cause those muscles to fire, and those muscles allow your toes to bend forward and to open wide. But when you throw them off by wearing high heels or pointed-toe shoes, or something that doesn't allow them to go through the normal process from heel to toe, that's when the muscles start weakening, the hammer toes come in and the imbalance begins."
When buying your next pair of shoes, Pascual suggests that you:
* Shop in the afternoon because your feet tend to swell by the end of the day.
* Try on both shoes (right and left), and a size above and a size below because not every brand has the same sizing.
* Walk around the store.
* Select a shoe that is specific to the activity you will be using the shoe for.
* Have at least a finger-width distance between the longest toe and the front tip of the shoe. Also, you should be able to wiggle your toes well, and your heel should fit nicely in the heel of the shoe.
"Also, be mindful about the width of your feet and not have two or three inches extension of your shoes just so you can fit your feet inside," she adds. "In Hawaii, it's not uncommon to find a 4E or 6E wide feet. I do think wearing rubber slippers growing up has a bit to do with it because you allow your feet to just kind of spread. And another important tip is that when you purchase your shoe, you have to be comfortable when you first try it on. You can't expect the shoe to stretch too much or to break in, because then that period of break-in is when people get their injuries."
Most Recent Comment(s):