Running To The Finish

By
.(JavaScript must be enabled to view this email address)
Friday - March 31, 2006
|
Share
Del.icio.us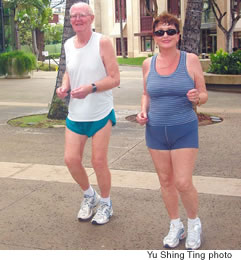 Bill and Gloria Pow hit the road
Imagine being told that you have only three to six months to live.
That's the case for William Sydney "Bill" Pow, who at age 77 was diagnosed with inoperable pancreatic cancer.
It's been almost two months since doctors revealed his condition, but Pow has not let it stop him from doing what he loves most - running.
In fact, just a month later he entered the Ft. DeRussy Biathlon and even placed second in his age group.
"Running gives me a high," says Pow, a retired mechanical engineer. "Some people will go out and get drunk. I go out and run."
These days, Pow runs three times a week, including twice a week with the Niketown Running Club, which meets on Wednesday evenings and Saturday mornings. He also bikes and swims, and keeps a daily log of all his workouts.
"He's just never happier than when he's with runners," says wife Gloria. "I always tell people, some men run after women. My husband just runs."
Pow discovered his passion for running at age 13 while attending a two-year technical school in Bristol, England. He became a regular in local races and joined the Westbury Harriers.
At age 19, Pow was diagnosed with tuberculosis and sent to a sanitarium for one year. There, doctors told him that he would never run again. So, he didn't.
But after five years, he changed his mind and hit the road again.
"I needed the pleasures of running," he says. "Also, another reason I run is because I'm vain. I don't want to put on weight."
Pow has since been cured of his TB. In 1967, he moved to Rochester, N.Y., to work for Xerox, and continued to run. He also continued to run competitively, entering local races, including the Jim Hartshorne Master Mile held at Cornell University during the winter.
"He's done that for 34 years," notes Gloria. "It's a 100-mile drive in the snow there, but he just loves running. It's his life.
"And he would do well. He would always bring home silver plates or some prize."
The Pows still reside in Rochester, but spend three months of the year in Hawaii. They have two grown daughters, three grandchildren and one great-grandson.
"Knowing that I have only three to six months to live, it has changed me," says Pow, who was also diagnosed with prostate cancer three years ago. "I thought I could handle anything, you know, everybody has to die, I'll just have to accept it.
"But I have to say, it's always on my mind. It does bother me. I haven't come to grips to know I haven't got much time to live. I don't know how I'm going to handle this. I don't really want to die."
The Pows are scheduled to return to Rochester at the end of April. Bill's big wish is to return to England and run one more time with the Westbury Harriers.
When he passes, Gloria plans to bring Bill's ashes back to Hawaii and have them scattered in the ocean.
For now, he wants to just run. "I'll just keep running until I can't run anymore," he says. "For me, that's the perfect way to go."
Most Recent Comment(s):