Running With The Experts

By
.(JavaScript must be enabled to view this email address)
Friday - February 18, 2009
|
Share
Del.icio.us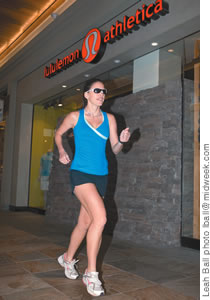 Kimberly McLean on the run
Lululemon Athletica at Ala Moana Center has launched a free Saturday morning running club for anyone who wants to improve their running.
"The whole running club is based on technique and form," explains Lululemon educator Kimberly McLean. "For the first hour, it's broken down to warmup, stretches, drills and speed-form training. And then we go for a very easy run. We run at the most three to four kilometers. It's more like a running clinic."
The group meets at 8:30 a.m. at the entrance of Magic Island (at the end of the parking lot), and each training session runs about an hour and 15 minutes.
McLean, an assistant coach for the Mid-Pacific Institute cross country team, started doing triathlons about 13 years ago as a way to be outdoors and to get in shape after giving birth to her son Matthew. She participated in various distances, from sprint triathlons to the Ironman
"At the Ironman, I would always break down at the marathon, so that's where I discovered that I really needed to focus on my running," says McLean, who follows the training of Olympic coach Dacre Bowen.
"Through (Bowen's) career and coaching other athletes, he developed this technique where he really focused on form," she says. "And for me, it took off 26 minutes from my Honolulu Marathon time."
McLean says the most common mistake she sees in runners is the position of their arms.
"It's too far out," she notes. "Your elbows should be in toward your rib cage, and your arms should be moving and responding to your legs.
"Also, a common mistake is people are either too straight or they don't have good posture. It's really important that they have good posture, especially if they're out running for a long period of time."
McLean, 32, is originally from Metepenagiag First Nation in New Brunswick, and moved to Hawaii three years ago.
Her goal with Lululemon's new running club is to create an environment for people to be more conscious about their running form.
"A lot of running clubs or trainers focus on the distance, and they don't realize that so much of it can be improved or runners can be injury-free if you're aware of what you're doing," says McLean. "It's quality vs. quantity.
"And it's really good to get someone to look at you run to see what you're doing right or wrong."
In addition to McLean, the club also features a special guest speaker each week, such as an elite runner or running expert.
For more information, call 946-7220.
Most Recent Comment(s):