Saying Goodbye To Flabby Thighs

By
.(JavaScript must be enabled to view this email address)
Friday - February 13, 2008
|
Share
Del.icio.us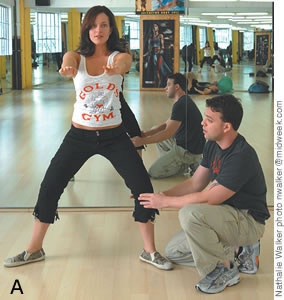 I enjoy running, but I don't like how the flab of my inner thighs swing back and forth when I'm out trekking the streets.
You know what I'm talking about, that extra fat that not only looks gross but it also rubs together when you run and causes painful chafing.
According to personal trainer Matt Jones, along with the abdomen, the gluteus maximus (buttocks) and the flab underneath your arm (near your triceps), the inner thighs is a common problem area for many women.
"I think it's because it gets a lot of inactivity," explains Jones. "Also, for women, fat typically stores in the lower body because of their estrogen levels. Men have high testosterone levels, so what happens with us is it stores in the stomach.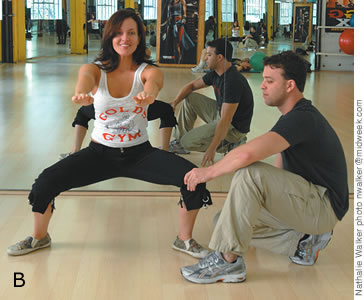 "Also, the inner thighs is considered a poorly circulated area which means there are trapped toxins in there. So, along with cardio and direct inner thigh exercises, the biggest thing is to try to avoid caffeinated beverages and increasing your water intake. Also, decrease your sodium and spicy foods intake."
Featured here are a couple of inner thigh exercises that will help to target that problem area.
"These exercises will help to tone and tighten the muscles," says Jones. "And a good diet will prevent more fat from going there."
Remember to consult with your physician before starting any new exercise regimen.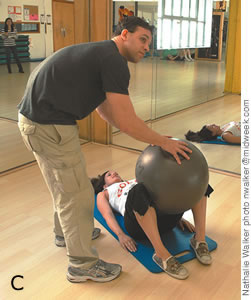 And say goodbye to those thunder thighs.
A. and B. Wide-legged squat: Stand with your legs apart and toes out. Imagine that there's a chair behind you and squat down, pushing your knees out while keeping them in line with your ankles. Go down until your thighs are parallel with the floor. If you feel a severe stretch, you are going down too deep. Inhale down, exhale up. Try two sets of 12 to 15 reps once a week. If this is easy, add weights in your hands.
C. Inner thigh squeeze: Place an exercise ball between your thighs. Squeeze, hold and release. Do this 12 to 15 times, once or twice a week.
Model:Yvette Nii / Photographed at Gold's Gym
Most Recent Comment(s):