Six Months Later

By
.(JavaScript must be enabled to view this email address)
Friday - July 16, 2005
|
Share
Del.icio.us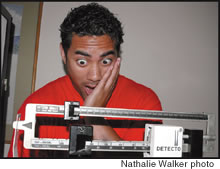 Perhaps you're not alone in detecting broken
New Year's vows
Boy, does time fly? I remember January like it was yesterday. And now it's mid-July?
In January, my friend Pete Boksanski spoke to a group of about 80 runners at the Niketown Running Club. The topic: New Year's resolutions.
He talked about setting SMART goals — Specific, Measurable, Attainable, Realistic and Tangible.
He had everyone write down their health/fitness/running goal, and file it away to be looked at again at the end of the year. I was the lucky one picked to go on the mike and share my goal with everyone.
"I want to lose 10 pounds," I said, as everyone clapped in support.
"And what is your weight now?" asked Pete.
"Oh, about 120 pounds," I mumbled, hoping that no one could hear me.
Well, last week, I ran into Pete and he reminded me about my New Year's resolution and asked how I was doing with it. A little embarrassed, I confessed that instead of losing, I gained five pounds!
Well, at the end of this month he'll be speaking again to the same running group, and yes, he wants me to go back on the mike and share my story of failure with everyone.
"People often have a hard time staying on track (with their
New Year's resolutions) because their short-term goals start to trump their long-term goals," says Kelly Chang, a Ph.D. candidate in psychology at the University of Hawaii. "The short-term goal of enjoying a bowl of ice cream often seems more appealing than the long-term goal of losing weight. That's why it's important to break long-term goals down into short-term goals — by the day, if you have to.
"It's also important to find ways to remind yourself of your longterm goal. Displaying the jeans you want to fit into, putting notes on the fridge, setting reminders on your cell phone … whatever it takes to keep your long-term goals in mind."
My editor Don Chapman is on target with his New Year's resolution to exercise more days than he did last year.
"I had 186 days of exercise in 2004 and I'm on pace for well over 200 this year," he says. One of his tricks is logging workouts in a calendar. "It's simple, but it's amazing how satisfying it feels to make that little mark — L for lifting, B for biking, etc. — and to see them adding up," he says.
While Don is on his way to meeting his goal, it's probably safe to assume that I'm not the only one who has fallen off the tracks of my New Year's resolutions.
Well, the year is not over yet. There's still plenty of time to achieve those goals.
"People often make New Year's resolutions that are huge leaps, rather than doable steps," says Chang. "Quitting cigarettes or alcohol cold turkey, losing 50 pounds, exercising every day … you can't make large goals like that and rely on will power alone to accomplish it.
"You need a plan. But before you make your plan, you need to have a realistic idea of what you are working with. You can't map a route to your destination unless you know where you are."
Chang notes that people who want to quit smoking should take a count and record how far they are from their goal. Counting calories, carbs or "points" can help you keep track of your progress, and aware of your goals.
"Record-keeping may seem cumbersome at times, but it is a very important part of any worthwhile self-change project," she explains. "Once you know what you are starting with, break your goal down into smaller steps, starting with your current behavior. For example, 'jog a mile everyday' for someone who doesn't jog at all might start with walking around the block, then slowly increasing the distance each week.
"Translate your goal into what you will actually do. Vowing to lose 10 pounds isn't enough. That's an outcome. You need to increase exercise and decrease food intake. What is your exercise goal? What steps will you take to work up to that?"
Chang, who has been studying self-change since 2001, and co-wrote the teacher's manual for the eighth edition of Self-Directed Behavior
by David Watson and Roland Tharp, lists some other ways to stay motivated:
• Pay attention to high-risk situations and common cues. If you are trying to reduce your food intake, avoid the office snack room. Make a plan ahead of time for navigating the wedding buffet. Use reminders in places where you will see them often.
• List the advantages and disadvantages of changing and accomplishing your goal.
• Make a contract with yourself, listing specific steps toward your goal, rules you will follow, and a promise to revise your contract if your plan fails. And keep trying.
• Look for models — people who have done what you are trying to do. They could be people you know or have heard or read about. What did they do that might work for you? What does success look like?
• Look for partners — people to check on your progress, remind you of your goals and perhaps even work with you.
• Avoid discouragers — people or circumstances that make light of your goal, make practicing your new behaviors difficult, or encourage conflicting goals.
Most Recent Comment(s):
Commenting is not available in this weblog entry.