Sleep Is Good

By
.(JavaScript must be enabled to view this email address)
Friday - April 15, 2009
|
Share
Del.icio.us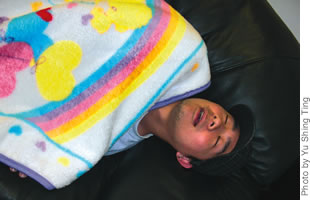 Napping is a great way to catch up on sleep
I love to sleep. But I definitely don't get enough of it. As a new mom with a full-time job, part-time job and occasional community service work, I get an average of five to six hours of sleep a night.
OK, yes, I probably could trade in a couple of hours a night of watching my favorite TV shows for more ZZZs.
But then again, maybe not.
The other weekend I had one of those rare days with nothing on my schedule, so I took advantage of it and slept in - until 5 p.m.! That's 20 hours of sleep! And, believe it or not, I probably could've stayed in bed a little longer!
In general, health experts recommend eight to eight-and-a-half hours of sleep a night for adults. People who don't get enough sleep usually end up suffering the consequences, such as fatigue and a weakened immune system.
But are there any health consequences for over-sleeping?
"A lot of times if you are sleep-deprived you may sleep a lot to try to catch up, but when you do oversleep you don't feel as rested either," answers Dr. Roger Yim, medical director for the Sleep Center at The Queen's Medical Center. "You feel kind of tired, and your body doesn't feel right. Some people will get headaches. But as far as oversleeping, there are no health consequences from that."
Recently, I also experienced a night where I had absolutely no sleep at all. The next day, it was really difficult to function and, more importantly, it's not safe, especially if there's driving involved.
In a case like this, when you finally get to rest, do you still only need eight hours?
Or do you need more sleep to make up for the night before?
"Usually it doesn't work one-to-one where if you lose one hour of sleep one night, you take two hours the next night," says Yim. "A lot of times when you are sleep-deprived, it takes awhile to catch up. Part of that is your body needs to adjust. Also, most people can't sleep 10 hours the next night."
If for some reason you know you're going to have to stay up all night, Yim suggests taking naps during the day.
"A lot of times if you stay up all night, it takes a few days to get back to where you were," he says. "Everybody's different. When you're younger, you tend to rebound faster.
As for oversleeping, Yim says you may experience stiffness or body aches from your body lying in one position for so long, but other than that it's probably just a sign that your body needed it.
Most Recent Comment(s):