Smoke-free At Last

By
.(JavaScript must be enabled to view this email address)
Friday - November 10, 2006
|
Share
Del.icio.us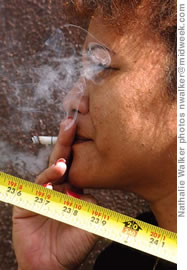 Secondhand smoke: no joke
On Thursday, Nov. 16, the Smoke-Free Hawaii Law goes into effect, banning smoking in workplaces and public areas throughout the state - and more importantly, protecting people from the risks of secondhand smoke.
As a non-smoker myself, I'm more than ecstatic about this new law. Finally, I can go to a club and return home without smelling like an ashtray.
Under the new law, smoking is not allowed in:
* Enclosed or partially enclosed places of employment, including bars, restaurants, office buildings, buses and taxicabs.
* Facilities owned by the state or the counties.
* Enclosed or partially enclosed places open to the public, including sports arenas, outdoor arenas, stadiums and amphitheaters.
* Hawaii airports from curb to cabin.
According to the American Cancer Society, secondhand smoke contains more than 4,000 substances, including at least 250 known poisons and more than 50 cancer-causing chemicals.
Lt. Gov. Duke Aiona quit smoking after his father, who was a lifelong smoker, died from lung cancer. His grandfather, who did not smoke but was exposed to secondhand smoke, also died from lung cancer.
"It took shocking events in my life to understand the dangers of smoking and secondhand smoke, and what tobacco use was doing to my health as well as to the people around me," says Aiona. "This new law will help protect the health of our youths and our elderly and everyone in between by minimizing the risks of exposure to secondhand smoke."
Gov. Linda Lingle, who also is a former smoker, believes the new smoke-free law will save lives.
"It was not long ago when we believed that non-smoking sections in restaurants or on airplanes were sufficient to keep secondhand smoke away from non-smokers," says Lingle, who signed the bill into law on July 10. "We now have concrete research about the serious dangers of secondhand smoke. We also know that tobacco is a leading cause of preventable death in Hawaii. Therefore, it is critical that we do all we can to protect the health of our residents and visitors by providing public venues that are truly smoke-free."
Hawaii is the 14th state in the nation to pass a smoke-free workplace law.
Exceptions to the law are: * Private residences, except when used as a licensed child care, day care or health care facility.
* Hotels and motels may designate up to 20 percent of the rooms as smoking allowed.
* Retail tobacco stores where the smoke cannot affect non-smoking areas.
* Private and semi-private rooms in nursing homes and long-term care facilities.
* State prison facilities.
The new law also requires all businesses in Hawaii to post a no-smoking sign at each entrance and to keep their workplaces smoke-free. Businesses that don't comply with the law may be fined $100 for a first offense, $200 for a second offense, and up to $500 plus loss of permits and licenses for subsequent violations.
To help businesses with compliance, free signage can be downloaded and printed from www.hawaiismokefree.com
Businesses that have a designated smoking area in question can call 591-3223 for a free inspection by Altres.
And the Coalition for a Tobacco Free Hawaii is planning a smoke-free celebration on Nov. 16 (The Great American Smokeout) from 6 to 8 p.m. at the O Lounge (1349 Kapiolani Blvd.). Enjoy free pupu, live music and prizes.
For more information on the new Smoke-Free Hawaii law, visit www.hawaiismokefree.com or call 211 (Aloha United Way Help Line).
Most Recent Comment(s):