Sodium And High Blood Pressure

By
.(JavaScript must be enabled to view this email address)
Friday - October 08, 2008
|
Share
Del.icio.us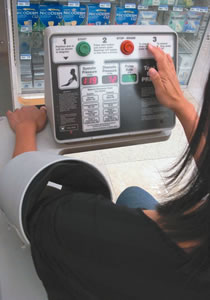 The author tests her blood pressure at a public machine
Like many people in Hawaii, I love my soy sauce. I also love my french fries and potato chips. But a recent blood pressure test revealed that I should probably watch my diet, especially my salt intake.
This made me want to understand why salt can be so bad for us and why should we care about our blood pressure?
Well, let's first clarify the difference between salt and sodium. Sodium is a mineral. Common table salt (which is 40 percent sodium and 60 percent chloride) is the main dietary source of sodium.
Why should we care about high blood pressure? Simply put, it can cause a stroke, heart attack, heart disease and kidney failure.
With that all said, high sodium intake is linked to high blood pressure, so if that isn't enough of a reason for you to watch your sodium, then I don't know what is.
"If you have high blood pressure, you can control it by reducing your sodium intake to a certain degree," explains Kathy Eastlack, a registered dietitian and food and nutrition services manager at Rehabilitation Hospital of the Pacific. "The normal range of sodium for a person per day is 7,000 to 14,000 milligrams (or 7 to 14 grams), depending on the individual's lifestyle. The higher end of that range is for people who are really active."
High blood pressure, which is also called hypertension, occurs when blood moves through your arteries at a higher pressure than normal.
It's also often called the silent killer because there usually aren't any signs or symptoms of it. That's why it's important to have your blood pressure checked regularly - at least once a year, or more often if you have high blood pressure. Children included.
A normal reading is 120 over 80. Anything that is 140 over 90 is high blood pressure and anything between those two is called prehypertension.
The first number is the systolic pressure which represents the pressure of blood in the vessels when the heart beats. The second number is the diastolic pressure which is the pressure between beats when the heart relaxes.
"If your heart is working harder because you have high blood pressure you can see why you can have a heart attack," says Eastlack. "It puts more pressure on your arteries and it can affect your vessels that are in your brain (that's where your stroke is) and it can affect your kidneys and if you have diabetes it can exacerbate that too.
"Scientists don't know what causes high blood pressure, but you can control it by addressing the root problem that they find in your system, and by your diet, exercise and medication."
Eastlack recommends staying away from foods that are processed, cured or canned because these are usually high in salt. Also, try not to salt your foods when cooking or at the table.
"Fresh tomatoes are fairly low in sodium, but when they process them, they put a whole lot of salt in them, so your ketchup, canned stewed tomatoes, tomato sauce and tomato paste, all are really high in sodium," adds Eastlack. "Also, any of your canned vegetables are also high in sodium."
Ironically, our bodies also need a certain amount of sodium to live and function. If it's too low, you can actually have a heart attack.
That's why some athletes, such as long distance runners who train in hot weather, actually take salt tablets.
"Any athlete in a high endurance sport needs to do some electrolyte replacement because they're exuding that from their body from sweating," notes Eastlack. "Professional athletes usually have special trainers and special dietitians who calculate what their needs are according to what they do."
Eastlack, who is a newly diagnosed diabetic, admits to having had high blood pressure. She was prescribed medication for it, but through exercising (walking every single day), she is now off her pills.
"My goal is to take as little medication as possible," says Eastlack. "So I watch my diet, exercise, drink fluids and go to my doctor for my check-ups."
According to Eastlack, people who are overweight or obese often will also have high blood pressure because that extra weight puts more pressure on their heart and arteries, making it have to work that much harder. So it's extra important to get that weight off.
Also, if you have a high sodium problem, chances are you also will have a high fat and high cholesterol problem too.
If you haven't had your blood pressure checked recently, do so now. It could save your life!
If your blood pressure is high, seek professional help right away. If it's normal, be sure to maintain that through proper diet and exercise. Read the labels and watch your sodium intake.
"As you get older your arteries are not as flexible," adds Eastlack. "Usually with time and age your blood pressure tends to go up a little."
Next Saturday (Oct. 18), Rehabilitation Hospital of the Pacific (226 N. Kuakini St.) presents a Low Sodium and Low Fat/Low Cholesterol Diets cooking demonstration from 1 to 2 p.m. in the Frear Dining Room.
Eastlack will demonstrate preparation of tofu burgers with mango chutney and cream phyllo fruit towers. Audience members will be invited to sample the creations, as well as receive recipes, nutritional facts and presentation information. There also will be a question-and-answer session.
Admission is $35 per person. Seating is limited. To reserve a seat, call 544-3364 by Oct. 13.
Most Recent Comment(s):