Some Eye-opening Facts On Sleep

By
.(JavaScript must be enabled to view this email address)
Friday - September 19, 2007
|
Share
Del.icio.us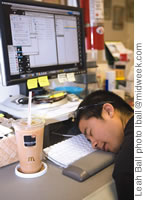 Not getting enough sleep affects your everyday life - and your job
Wake up, sleepyhead!
If I had to pick one thing that I love but don't get enough of, it's definitely sleep.
Aside from work, the rest of my day is usually spent eating, cleaning and watching TV.
Thanks to Oprah and DVR, I normally don't see my bed until 2 a.m.
According to the Mayo Clinic, seven to eight hours a night appears to be the best amount of sleep for most adults. However, everybody is a little different.
Newborns sleep between 16 and 18 hours a day, preschool children should sleep between 10 and 12 hours a day, and older children and teens need at least nine hours to be well rested.
For me, the biggest sign that I'm not getting enough sleep is that I often feel drowsy at midday. And it seems I'm not the only one.
"Many adults in the U.S. don't get enough sleep," says Dr. Roger Yim, a board certified sleep specialist and medical director for Queen's Medical Center's Sleep Center. "Our society is one where it's go, go, go. You do as much as you can. Our society is very fast-paced, and as a result a lot of Americans don't get enough sleep.
"And not getting enough sleep affects your everyday life and your general well-being. The major thing is that you don't function as well the next day. It affects your memory, your mood and it can also cause health problems. For example, your immune system doesn't work as well, so you're prone to getting infections."
Some signs that you may not be getting enough sleep include:
* Dozing off or struggling to stay awake throughout the day.
* Your memory isn't working quite as well.
* Your mood has changed. People who aren't getting enough sleep tend to be irritable.
My personal solution to my tiredness (for as long as I can remember) has been caffeine, specifically coffee. And, of course, those one-in-a-million moments where I get to hibernate for the entire day.
"Caffeine can keep you more alert during the day and usually it's not a problem unless you have underlying heart problems," says Yim. "As for trying to make up sleep, it usually doesn't work that way. People will stay up late all night during the week and think 'Oh, I'll catch up on the weekends,'but it's not a one-to-one ratio.
"It usually takes a while to catch up on your sleep. If you've been sleep-deprived for one week, it may take several weeks to make up that sleep."
The better solution, Yim says, is to get into a good bedtime routine and good sleep habits.
Here are some ways to a better night's rest, according to the Mayo Clinic:
* Go to bed and get up at about the same time every day, even on the weekends.
* Don't eat or drink large amounts before bedtime.
* Avoid nicotine, caffeine and alcohol in the evening.
* Exercise regularly - but do not exercise right before bedtime.
* Make your bedroom cool, dark, quiet and comfortable.
* Sleep primarily at night.
* Choose a comfortable mattress and pillow.
* Start a relaxing bedtime routine.
* Go to bed when you're tired and turn out the lights.
* Use sleeping pills only as a last resort, and check with your doctor before taking any sleep medications.
If you have increased your sleep time or feel you are getting enough sleep but still struggle to stay awake throughout the day, talk with your doctor. They may be able to identify the cause of your sleep problems and offer advice on how to get a better night's sleep.
Lights out!
Most Recent Comment(s):