Some Tips For Fighting Cellulite

By
.(JavaScript must be enabled to view this email address)
Friday - August 06, 2008
|
Share
Del.icio.us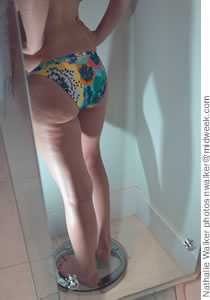 As many as 90 percent of women, such as the one pictured here (not the author, by the way), have cellulite, including skinny ones
Whether I'm at home or at the beach, my weekend outfit of choice is my bathing suit. Especially now, during these hot summer months.
But the other day, as I was sitting on the sand, I looked down and saw a dimply, lumpy, cottage cheese-looking thing on my thighs - cellulite!
I quickly covered up with a pareo while glancing around to see if anyone else noticed my discovery.
Needless to say, I passed on lunch that day, fell into instant depression and was simply devastated.
And I'm not alone. Research shows that as many as 90 percent of women - of all shapes and sizes - have cellulite. And while most of the complaining seems to be from the ladies, men have it too.
Cellullite is caused by collections of fat, fluids and toxins that are trapped deep in the skin, pushing against the connective tissue beneath the skin. The amount of cellulite and the appearance of it on a person are factored by genes, gender, age, hormonal changes, amount of fat on the body and thickness of the skin.
Cellulite is most commonly seen in the hips, buttocks and legs, and is not caused by being overweight, as most people think.
According to a recent survey conducted by Nivea, 65 percent of women feel that visible cellulite is viewed more negatively on a woman's body than wrinkles.
Also, 70 percent of women who have cellulite agree that cellulite negatively affects their self-confidence.
According to the American Society for Aesthetic Plastic Surgery, there is no cure for cellulite, just a variety of treatments that provide temporary improvement.
Nivea notes that because of its structure, cellulite can be more difficult to eliminate than other forms of fat. But the right combination of a low-fat diet and regular exercise along with the latest advancements in skin-care can help reduce the appearance of cellulite.
The Mayo Clinic reports that there is no way to prevent getting cellulite. But keeping off excess pounds and strengthening your muscles through regular exercise can go a long way toward maintaining your skin tone and texture.
Here are some ways to fight cellulite. But remember, results from most of these treatments are temporary and only help to reduce the appearance of cellulite. * Exercise regularly. It helps with proper circulation and firms muscles and the tissue surrounding them. * Eat a healthy diet, low in fat and high in fiber and complex carbohydrates. * Reduce stress. Tension can lead to stressed and tightened muscles and can block the connective tissue, which prevents adequate waste elimination. * Get massages regularly. It helps to restore the body's natural tendencies, manipulating the muscles and stimulating the circulatory and lymphatic systems. * Go to the spa. Many spas offer treatments like thalassotherapy and body wraps, which help to invigorate and detoxify your skin. * Endermologie. Developed in France, the patented technique uses rollers and gentle suctioning to deeply massage the affected areas, redistributing the fat into the blood stream to be carried out of the body.
There also are cellulite creams that contain hydroxy acids which help to improve the skin's elasticity, while strengthening, renewing and softening the skin. But beware of those products that claim to reduce or eliminate cellulite.
To help women get over their bathing suit insecurities, Nivea has launched a Good-bye Cellulite Hello Bikini four-week program, as seen on The Tyra Banks Show, consisting of expert exercise tips, energy-boosting nutrition ideas, summer style hints and a skincare regimen.
Go to www.niveausa.com
And remember, if you have cellulite, you're not alone. There are dimply people everywhere, the skinny included.
Most Recent Comment(s):