Sports Day

By
.(JavaScript must be enabled to view this email address)
Friday - January 06, 2006
|
Share
Del.icio.us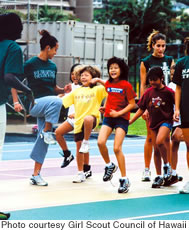 Girls at last year's Sports Day take
part in a track and field clinic
Calling all girls ages 5 to 17. The Girl Scout Council of Hawaii, in partnership with the University of Hawaii at Manoa, is hosting its 18th annual National Girls and Women in Sports Day (NGWSD) featuring a variety of physical activities and sports clinics ranging from basketball, tennis and volleyball to cheerleading, jump rope and ultimate frisbee.
Sports Day 2006 takes place Saturday, Feb. 11, at UH-Manoa. Registration is being held from now through Jan. 20. This year's theme is Count Me In.
"Every girl deserves to live a healthy life both emotionally and physically," says Gail Mukaihata Hannemann, Girl Scout Council of Hawaii CEO. "Through events like Sports Day, we're providing Hawaii's girls with the opportunity to build the skills they need to keep their bodies healthy, their minds engaged and their spirits alive."
The sports clinics will be facilitated by UH athletes, Hawaii high school athletes,YWCA clinicians and volunteers from other organizations. In addition to the above-mentioned activities, older girls will also have the opportunity to learn lacrosse, box n'shape, street dance and even synchronized swimming.
"When we first organized this event 18 years ago, we wanted to do something for National Girls and Women in Sports Day, and we came up with a sports clinic," recalls Bobbie Perry of the Hawaii Association for Health, Physical Education, Recreation and Dance, and an educational assistant at Kamehameha Schools. "Our motivation was to have girls be exposed to activities that they might not get in their school or community, and to show them female role models. Hopefully these girls might find an activity that they weren't exposed to before that they might enjoy doing.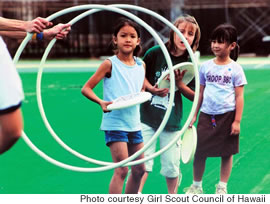 Girls at last year's National Girls and Women in
Sports Day try their hand at ultimate frisbee
"Along with interest, there also needs to be skill development.
We talk so much about being active, but if they can't find something they enjoy and if they don't have the skills to do it ... For example, I might enjoy volleyball, but if I don't learn the skills, I might not enjoy it as much."
This year, Sports Day will be honoring women in golf, with attendees having the opportunity to hear from women whose lives have been positively impacted by the sport.
The event also recognizes the achievements of women in sports, the positive influence of sports participation, and the continuing struggle for equality and access for women in sports.
"So many times we see these female athletes on TV, and here's a chance for these girls to make this personal contact with them," says Perry. "And that really makes their day."
More than 1,000 girls are expected to take part in Sports Day, and girls interested in getting involved do not need to be a Girl Scout.
The event is held in partnership with the UH-Manoa Athletics Department, the Hawaii Association for Health, Physical Education, Recreation and Dance, and the Leahi Soccer Club.
"I would really encourage girls to come out and to get a friend to come with them because it's more fun to come with your friends," adds Perry. "For the younger kids, we ask for parents to come with them.
"The volleyball clinic is always popular because the volleyball team is well-known, and our jump rope session is really popular, too. And the girls love cheerleading. It's really a great day, the girls get so much out of it."
Registration fee is $2 in advance; $3 on the day of the event. The deadline for ordering T-shirts ($8) is Jan. 20.
For more information on the Girl Scout Council of Hawaii, call (800) 691-4333. To register for Sports Day, visit www.girlscouts-hawaii.org
Most Recent Comment(s):