Staying Fit While Having Fun

By
.(JavaScript must be enabled to view this email address)
Friday - July 22, 2009
|
Share
Del.icio.us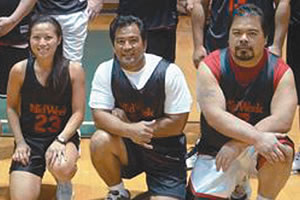 The author with MidWeek hoops teammates Ralph Garcia and Kevin Ah You
I believe that living an active, healthy lifestyle is good for you physically, mentally and spiritually.
This column was first featured in our Metro newspaper, which was inserted in MidWeek and delivered to East Oahu homes in 2003. In 2005, it moved into our MidWeek the Weekend edition and this past February into MidWeek.
My goal with On The Move is to inspire our readers to be fit and healthy by revealing to them the latest fitness trends, new health products and services, information on various health topics, and stories on local athletes and healthy role models.
Over the years, I've been given a ton of advice. But I think the best tip has been to find at least one physical activity that you enjoy, whether it's dancing, hiking or lifting weights. The reason for this is because if you don't enjoy exercising, you won't do it.
For me, I love being outdoors and I especially enjoy running, playing basketball and surfing. I assist with the twice-a-week Niketown Running Club, coached for Team Jet Hawaii, completed 12 marathons, participated in countless races and a
couple of triathlons, play in various basketball leagues and surf whenever I can. And now that I have a toddler who likes to be carried more than he wants to walk, it's like having a 30-pound dumbbell attached to your arm.
In addition to finding an activity that you enjoy, it's also a good idea to find someone to partner with. You increase your chance of showing up if you know you're meeting someone. And the added company is always nice. Another important tip for good health is to stop smoking.
From writing this column, I've also learned some interesting facts about the human body, such as: * A human being loses an average of 40 to 100 strands of hair a day. * Babies are born with 300 bones, but by adulthood we have only 206 in our bodies. * The feet contain 25 percent of all of the body's bones. * The human brain is 85 percent water. * It takes 17 muscles to smile, but 43 to frown.
These fun facts and more can be found at www.corsinet.com/trivia/htriv.html.
Most Recent Comment(s):