Stretches To Ease Tight Shoulders

By
.(JavaScript must be enabled to view this email address)
Friday - December 14, 2011
|
Share
Del.icio.us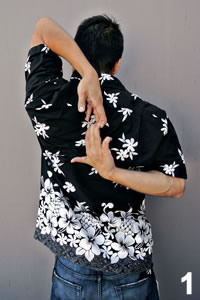 If you were to reach one hand up and back behind your spine and the other hand down and up your back, are you able to connect your hands with your fingers?
According to Kimo Kockelman, owner of Hardass Fitness/CrossFit Hawaii, people should be able to reach back both hands and get your fingers pretty close (see photo 1). If not, it's a sign that you might have tightness in your shoulders.
This week, Kockelman shares four stretches that are good for your rotator cuff, which are the muscles that surround the joint of your shoulder.
"People often complain about a limited range of motion or pain in their shoulder, and sometimes they think this pain is an injury, but it could just be tightness, and the tightness is causing the pain," he explains. "These are shoulder opening exercises that you can do daily."
Sitting at the computer all day or carrying a heavy backpack or purse all the time can ignite some muscle tension in the shoulder area.
Performing these exercises takes only about 10 minutes of your day, and Kockelman says you should notice improvements after about 30 days of doing it regularly.
If you still experience pain in your shoulder or if you don't notice any improvements in your tightness, you may want to see your doctor.
Exercise 1 (see photo 2):
Lying on the floor with your feet shoulder-length apart, place a weight (10 pounds or less, such as a phone book) on your hands, and allow gravity to slowly pull your hands down.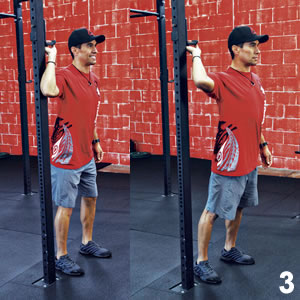 Hold for 30 seconds, release and then repeat the exercise four or five times.
"Make sure your body is in the hollow position, which is a gymnastics term where you keep your whole midsection engaged so that means your abs are tight, your butt has to be tight and when you're lying down on the ground that will pull your spine down to the ground," adds Kockelman. Exercise 2 (see photo 3):
Using a doorjamb, bring one hand up and to hold onto the doorjamb, placing your elbow in front and fingers behind.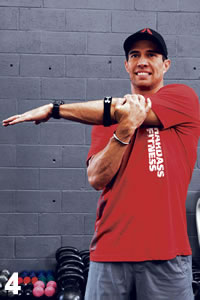 Stand straight up, then push your hips back as your chest drops forward to rotate the shoulder. Keep your arm in the same spot, you should feel the stretch in your shoulder. Hold for 20 to 30 seconds, release and switch sides. Repeat four to five times. When doing this exercise, make sure you're not leaning your whole body forward. (see photo 3a)
Exercise 3 (see photo 4):
Bring your left arm up and to your right keeping it parallel to the ground. Place your right hand at the base of your left elbow and pull toward your chest. If you're standing, make sure your hips stay in place. Hold for 20 to 30 seconds, release and switch arms. Repeat four to five times.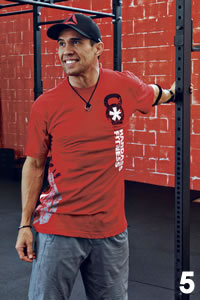 Exercise 4 (see photo 5):
Using a doorjamb again, bring one hand up and extend your arm out to be parallel to the ground.
Keeping your body upright, rotate your hips and shoulder away from your arm until you feel a stretch. Make sure your feet stay in place, and that you're not leaning forward. Hold for 20 to 30 seconds, release and switch sides. Repeat four to five times.
When stretching, Kockelman also recommends that your body is warm before you start, so instead of doing it first thing in the morning, it would be better to do it later in the day, after light exercising or even after a hot bath.
"We normally don't do stretches until we've done our warmup, and then we do post-exercise stretches so they're very warm," adds Kockelman. "That way the muscles are more malleable."
Nathalie Walker photos
Most Recent Comment(s):