Surfer Fitness

By
.(JavaScript must be enabled to view this email address)
Friday - November 24, 2006
|
Share
Del.icio.us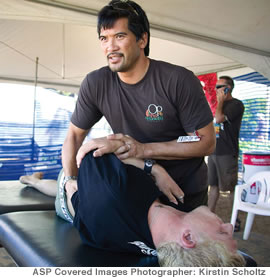 Dr. Leland Dao works on world No. 2-ranked surfer
Mick Fanning at the Op Pro at Haleiwa
Attaining or maintaining that perfect beach body can be tough, especially during the holiday season.
And if you're in need of some inspiration, my advice is to take a trip to the North Shore for the 2006 Vans Triple Crown of Surfing.
Not only will you see the best surfers in the world dropping in, but you will see, in my opinion, the most beautiful bodies on this planet.
"Surfing is probably one of the most unique sports because it is a lifestyle as well," says Dr. Leland Dao, an osteopathic physician who heads the medical team for the Vans Triple Crown of Surfing. "You're in the water, so you're basically getting a refreshing rejuvenation every time you jump in the ocean.
"Physically, you're mostly using your upper body, your shoulders and your arms, to do the paddling. And when you're riding the wave, you're using your lower body, your legs. But, surfing is not a complete work-out in that you still need to cross train. Aerobic training such as running, swimming and cycling, would be good alternative exercises."
The Vans Triple Crown of Surfing features the best of the best - Kelly Slater, Mick Fanning, Andy and Bruce Irons, to name a few.
They train year 'round to compete at their maximum level.
But overuse of certain muscles and joints, unpredictable wave conditions and a bad wipeout can lead to unwanted aches and pains.
"The most common injuries are cuts and lacerations from the surfers hitting their surfboards or rocks and reef," says Dao. "It's also very common for surfers to have chronic pain in their neck, back and shoulder because they're constantly paddling.
"We have a lot of surfers travelling from all over the world to be at the Vans Triple Crown, and some come with prior injuries. When they get here, we have a team that can provide medical care, massage treatments, and perform adjustments on their neck and back. We just work on the competitors all throughout the day so that they can perform to the best of their ability."
To prevent injuries, Dao recommends surfers stretch and warm up before heading into the water. Also, get the proper amount of rest, drink a lot of fluids, and pace yourself between sessions.
And, of course, observe water conditions before you jump in, especially on the North Shore where conditions can be some of the most dangerous in the world.
If you do get hurt, seek help from a lifeguard. And make sure you clean the cut thoroughly, and remove all sand in and around the wound.
"It's also a good idea to get a professional to see if you require stitching," adds Dao. "And always rinse off with soap and water after you surf. Every time rain occurs, there seem to be more infected wounds."
The Op Pro Hawaii, the first jewel of the Vans Triple Crown of Surfing, wrapped up earlier this week with Andy Irons taking home the crown.
Today (Nov. 24) starts the holding period for the O'Neill World Cup of Surfing and the women's Roxy Pro Hawaii at Sunset Beach continuing through Dec. 6. And from Dec. 8 through Dec. 20 are the men's Rip Curl Pro Pipeline Masters at Pipeline and the Billabong Pro Maui women's event at Honolua Bay in Maui.
Contests take place on the four biggest and best days of waves.
Call 596-SURF (7873) or visit www.triplecrownofsurfing.com
Most Recent Comment(s):