Surviving Cancer

By
.(JavaScript must be enabled to view this email address)
Friday - November 11, 2005
|
Share
Del.icio.us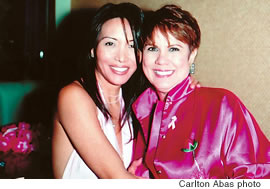 Auntie Iwalani shares a hug with niece Donna Iwane
`In this past year, a close friend's parents were both diagnosed with cancer, then a close friend herself, and most recently my former hula teacher - Iwalani Tseu, aka Aunty Iwalani.
Cancer is the second leading cause of death nationwide and affects thousands of Americans each year.
"Every year I faithfully go for all of my female exams, especially my screening mammogram," says Tseu. "But within just one year, cancer cells appeared in my body. I found out that there are many types of cancer. I had stage three aggressive locally advanced right side breast cancer. Immediately I was advised to remove it."
Two weeks later, Tseu went in for surgery. Radiation will soon follow. And then possibly chemotherapy.
"My first thoughts were my three daughters and students whom I love so dearly," recalls Tseu. "Then it was back to the cancer - how much do I have in my body and what do I need to do? I don't smoke, I don't drink, I'm in perfect health, I don't eat red meat or pork, I exercise regularly, and there is no cancer history in my family. I was totally baffled."
Since being diagnosed with breast cancer, Tseu has been obsessed with educating herself about the "big C word." She appeared on a recent breast cancer awareness program that aired on KHON-2. And her niece, Donna Iwane, planned a fundraiser at Ocean Club with hundreds in attendance, including top entertainers such as Danny Kaleikini, Melveen Leed, Tony Conjugacion, Da Braddahs and many more.
"Through this experience, I have learned that I have so much to live and give to my life as well as others," says Tseu. "We all need to take care of our body, for it is priceless. There are so many emotions, conflicts, confusion that affects family and friends when you hear the word cancer, those close to you become victims as well.
"I've learned even more so, don't put plastic or styrofoam containers with your food in it into the microwave. The chemicals alone can activate cancer cells. I was a huge Cup O'Noodle fan, and a plate lunch junkie!
"I also learned about myself. I'm prepared to lose my hair if necessary in case chemotherapy is a factor. No wigs or scarfs for me - bald is beautiful.
"Even if I have to duct tape flowers to my head to add humor to the madness, so be it. Even though I am a very vain person, I am not ashamed! I'm a messenger of consequences that may happen in life to anyone."
Learn about the latest advances in cancer at a free seminar Saturday, Nov. 19 from 8:30 a.m. to noon at the Renaissance Ilikai Waikiki Hotel. Cancer Care: Current Issues will feature nationally recognized keynote speakers, including breast cancer specialist Dr. Patrick I. Borgen from the Memorial Sloan-Kettering Cancer Center in New York; medical oncologist Dr. Thomas Bradley from Cancer Associates of Monterey Peninsula; and cancer specialists from Straub Clinic & Hospital.
The seminar is sponsored by Straub Clinic & Hospital and organized by the Straub Foundation, which are affiliates of Hawaii Pacific Health. Advance reservations are recommended; seating is limited. For more information or to register, call 524-6755.
Most Recent Comment(s):