Sweating For Charity

By
.(JavaScript must be enabled to view this email address)
Friday - September 29, 2006
|
Share
Del.icio.us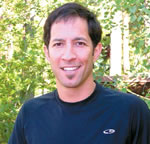 Fitness guru Stephen Lam
returns to Honolulu this
weekend
Sweat it up for the National Kidney Foundation at two special master classes instructed by fitness guru Stephen Lam at the Honolulu Club this weekend.
Lam, a former Honolulu resident, will lead a Muscle Conditioning class on Saturday, Sept. 30 at 7 a.m. and a Step/Cardio class on Sunday, Oct. 1 at 10:30 a.m. Both classes will be held at the Honolulu Club located at 932 Ward Ave.
"These classes and exercises are an excellent way to promote good health (diabetes, weight control, high blood pressure and cholesterol), improve cardiovascular fitness, muscular strength/endurance/tone, improve coordination, balance and make you feel good," says Lam, a 1981 graduate of Kamehameha Schools who is currently teaching group fitness at Incline Athletic Club, Incline Village Recreation Center and Asanti Lakeside Fitness in Tahoe City. "Also, weight bearing exercises are an excellent way to prevent osteoporosis."
Lam, who was the co-creator/owner of Cardio Club Fitness in Honolulu and later group fitness director for the Honolulu Club, relocated from Hawaii to San Francisco in 1996.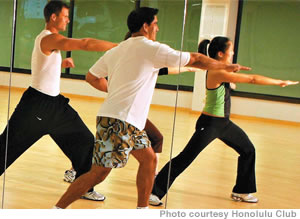 The Honolulu Club hosts two Master Classes this weekend
to benefit the National Kidney Foundation Hawaii
He has been teaching group fitness for the past 23 years, and while in San Francisco, garnered a large and loyal following at the prestigious San Francisco Bay Club, Pinnacle Fitness and Crunch.
One of his favorite exercises that can be done at home or while traveling is push-ups against a counter or immovable table.
"It's a great way for our older set or beginner to get some upper body workout without using any equipment," he says. "With your feet together, back away approximately three feet from the object your hands will be on, have your hands out wider than shoulder width, and perform push-ups, bringing your chest (nipple line) to the edge of the counter."
Honolulu Club members and and the public are invited to participate in this weekend's master classes. Suggested donation is $50 per class or $85 for both classes. All donations go directly to support the National Kidney Foundation Hawaii (NKFH).
According to the NKFH, diabetes is the No. 1 cause of kidney failure in Hawaii, accounting for approximately 65 percent of the 2,200 cases of kidney failure in the state of Hawaii.
Hawaii also has among the highest kidney failure rates in the nation - up to 30 percent higher than the national average.
To prevent kidney disease, the NKFH recommends drinking plenty of fluid, prevent/treat high blood pressure and diabetes, a balanced diet and exercise, work with your health care team, limit exposure to heavy metals and toxic chemicals, and contact the NKFH at www.kidneyhi.org
"There are five stages of kidney disease, and early intervention is optimal at stages one and two for the prevention of kidney failure," says Jill Tamashiro, early intervention coordinator at the NKFH. "But if detected in stage three or four, with proper diet and exercise, you can slow the progression or possibly prevent kidney failure altogether."
Warning signs of kidney disease include high blood pressure, blood/protein in urine, abnormal serum creatine or a Glomerular Filtration Rate (GFR) of less than 60, more frequent or painful urination, puffiness around eyes and swelling of hands and feet, and fatigue.
To reserve a space and time for this weekend's classes at the Honolulu Club, call 596-7575 or e-mail .(JavaScript must be enabled to view this email address).
Most Recent Comment(s):