Sweating It Out

By
.(JavaScript must be enabled to view this email address)
Friday - October 13, 2006
|
Share
Del.icio.us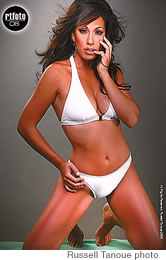 Former Miss Hawaii Olena Rubin
lost 15 pounds and dropped two
dress/pants sizes from "hot
yoga"
Former Miss Hawaii Olena Rubin is not one to give up. So, when she was given the Bikram's Yoga 31-day challenge, it's no surprise that she sweated it through to the very end.
The challenge: going to a 90-minute yoga session at least once a day for 31 days.
"I did the hot yoga," says Rubin, 25. "You're in a room where the temperature is set between 90 and 100 degrees Fahrenheit. There's an instructor and she starts you off with some breathing exercises.
"From there, you do 21 sets of yoga poses in the heated room and you do each pose two times. Then you finish off with stretching and some more breathing exercises."
In the end, Rubin lost 15 pounds and went from a dress/pants size 6 to a size 2.
"I hadn't been working out lately just because of my
schedule with school and work," says Rubin. "Since my Miss Hawaii days, I gained about 15 to 20 pounds. It didn't really show, but I just wasn't fit and toned, and I was really unhappy with my body."
The 31-day challenge began on Aug. 1. At the time, Rubin was taking two summer school classes and working full-time. But determined to meet her goal, she didn't let a day pass without going to a yoga class. She also changed her diet and drank a lot of water.
"I didn't lose weight right away, but because I went consistently and I started eating better, then all of a sudden my body got lean and long and toned up," says Rubin, who is now 5-feet-7-inches tall and weighs 120 pounds. "The purpose of the challenge, for most people, is to gain focus, strength and flexibility. For me, I found that yoga was very therapeutic because you do so much meditation.
"And it was beneficial for me just because I feel I have a high-stress life and because I wanted to get into shape."
Rubin, who is studying speech communications at Hawaii Pacific University and working full-time at Alan Wong's, continues to take yoga three times a week at Bikram's Yoga College of India on 12th Avenue in Kaimuki. She also serves as the spokesperson for Hawaii Self Storage and will be the new co-host of Kimo's Vegas on OC-16.
At the start of the challenge, Rubin remembers about 50 people signing up for it. At the end, only 10 to 15 finished it successfully.
"From yoga, I feel a lot more relaxed," she says. "I feel like I'm able to deal with stress a lot better. After each class you just feel really focused. It's very euphoric because you're sweating but at the same time you're meditating.
"I also noticed that in my everyday life, I felt less tense and less dependent on caffeine. I was happier and I just felt like my body was physically happier."
Most Recent Comment(s):