Swim Like A Mermaid For Fitness

By
.(JavaScript must be enabled to view this email address)
Friday - January 19, 2011
|
Share
Del.icio.us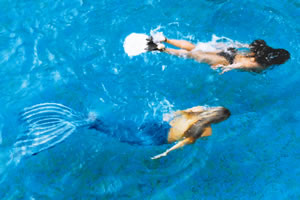 The author (top) tries out her mermaid fin
Ever wondered what it's like to be a mermaid? Well, I can tell you, it's a work-out.
The JW Marriott Ihilani Resort & Spa introduces a unique aquatics workout program inspired by the mermaid called Fin to Fitness.
Led by instructor Mermaid Kariel, the hour-long class takes place at Ihilani Spa's lap pool every Wednesday at 11 a.m., and is offered in a private group setting for up to 10 people. Cost is $25 per person.
Fin to Fitness was created by Kariel, who's from Oregon and moved to Hawaii in 2009. "I always wanted to be a mermaid," she says. "And then I realized how much calories I was burning."
The class starts on the pool deck with warm ups, stretching and instruction on proper swim techniques. Then, guests slip on a monofin and swim in the water under the guidance of Kariel and her assistant Lauren Ashcroft.
"Kurt Chambers, one of the top free divers in the U.S., helped me with the technique," says Kariel, who is qualified as a PADI advanced open water diver and an AEA aquatic fitness professional trainer. "The monofin is used in Olympic training, and the dolphin kick (she teaches) is an actual swim technique also used in the Olympics." Depending on your age and weight, Kariel says you can burn up to 800 calories per hour doing the dolphin kick.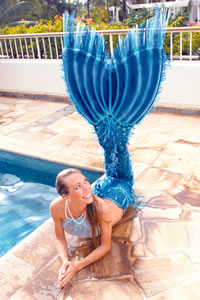 "Fin to Fitness works every muscle in the body because of resistance in the water," she adds. "But the target areas are the abdominal muscles, core, gluteus maximus, hip abductors and a lot of back muscles."
Kariel's mermaid suit, which took her 400 hours to make, is handpainted and made of recycled wetsuits.
For more information, visit mermaidkariel.com. To reserve a space, call 679-3321 or visit ihilanispa.com.
Most Recent Comment(s):