Swimming Lessons For Little Ones

By
.(JavaScript must be enabled to view this email address)
Friday - May 19, 2010
|
Share
Del.icio.us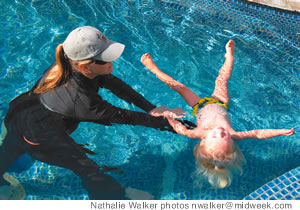 Tracy Falconer with 2-year-old Maren Barkdull
With the hot summer months approaching, it's important for parents to keep their kids safe when in and around the water.
Recently featured on the Today Show and Good Morning America, Infant Swimming Resource, provider of self-rescue swimming lessons for babies and toddlers from 6 months to 6 years old, has 11 locations on Oahu.
"Sometimes, everything we do is not enough to keep a child from drowning," says Harvey Barnett, founder of ISR.
"Even with alarms, door locks, pool fences and supervision, children can escape from protective care and find themselves in trouble. At ISR, we arm children with the skills to survive if they were to accidentally end up in the water alone."
The ISR lesson is a comprehensive six-week program. Infants from 6 to 12 months learn to hold their breath underwater, roll onto their backs and float unassisted. Children age 1-6 learn how to hold their breath underwater, swim with their head down and eyes open, roll onto their back to float, rest and breathe, and roll back over to resume swimming until they reach the side of the pool and can crawl out. Once skilled, children practice these techniques fully clothed.
Dr. Jill Bergeson, who lives in Kailua, signed up her three daughters - Maren, 2, Amelia, 3, and Camille, 6 - in the ISR program, and believes it works.
"The biggest thing for me is that while the kids are not drown-proof, they have an increased measure of confidence in the water, and I think that helps the parent feel more comfortable as well," says Bergeson.
"If one of my children fell in the water, she would be able to follow through with the ISR method and take care of herself until help came. I think, as a parent, it is amazing to watch your child do something that is difficult and develop a mastery of a skill at very a young age."
ISR lessons range from $75 to $100 a week, depending on the instructor. There also is a $105 national registration fee.
To see a video of what your child will learn or for more information on the ISR program, visit http://www.infantswim.com.
For more information about classes on Oahu, e-mail: .(JavaScript must be enabled to view this email address) in Kailua (Aikahi), .(JavaScript must be enabled to view this email address) in Kailua (Enchanted Lake), .(JavaScript must be enabled to view this email address) in Waipahu, or .(JavaScript must be enabled to view this email address) for Honolulu, Aiea and the North Shore.
Most Recent Comment(s):