Tahitian Dance

By
.(JavaScript must be enabled to view this email address)
Friday - August 06, 2005
|
Share
Del.icio.us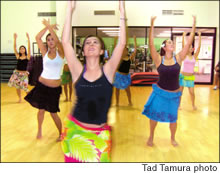 Reina Ahern (front, center) with Kelli Oki
(left) and Alli Yoshida (right) discover
a fun way to improve muscle control,
flexibility and tone in the Tahitian Dance
Class at the Honolulu Club
Looking for some excitement in your exercise regime? Try shaking your way into shape with Tahitian dance.
"It's definitely a workout," says Mieko Treaster, who has been dancing for eight years. "It's a lot of cardio, and you really have to learn muscle control. Also, it's a lot of fun."
For the past year, the Honolulu Club has been offering a Tahitian dance class every Wednesday and Thursdays night led by instructor Kaipo Barros.
"The dance program at the Honolulu Club started with tango and it just grew from there," says Scott Kato, Honolulu Club program coordinator. "People came in requesting other types of dances. The Tahitian dance class is for women only, but if men are interested we may start a men's class. And the class is open to the public; you don't have to be a member of the Honolulu Club.
"I think a lot of people are realizing that they can get a good workout and sweat through dancing."
The class covers the basic fundamentals of Tahitian dance, as well as the skills that will improve muscle control, flexibility and tone. Students learn both the fast lively otea and the slow sensual ahuloa.
"I've always wanted to (dance Tahitian), and now that I have I recommend for everyone to learn," says Huong Hornshuh, after taking her second Tahitian dance class at the Honolulu Club. "It's so beautiful, sexy and energetic. And it's a great cardio workout.
"Exercising tends to be so monotonous, but this is something that keeps you interested. It's really energetic, and you're having so much fun that time goes by really quick. The dance itself just makes people smile and happy."
The class begins with a 15- minute warmup consisting of basic movements.
"We might learn an otea (drumming routine), or aparima or ahu purotu," explains Barros. "These hula routines we learn are beautiful and graceful, so we take our students from rigorous, gyrating hips to a beautiful, slow and graceful hula. The students learn the meaning of the songs and learn to express themselves."
Barros has been involved with Tahitian dance and culture for more than 30 years, learning the dance from Kanani Bell and Kaui Brandt. She danced professionally in Japan for six months, and then at Tavana's Polynesian Spectacular in Waikiki for 10 years.
She became a dance instructor more than 16 years ago, and has judged various Tahitian dance competitions. For the past six years, she has been directing the very popular Tahitian section of the annual Punahou School Holoku Pageant where they audition up to 160 dancers for 80 to 100 spots.
"The most challenging part of Tahitian dancing is convincing yourself to try something new and different," says Barros. "The best part is when you realize you are using your body and mind to their fullest potential by dancing an entire choreographed routine, utilizing all the movements and directions.
"Tahitian dancing is also a great all-around exercise, physically and mentally. It helps to keep you toned, as well as flexible. It's like low-impact aerobics in that you keep you feet firmly placed most of the time, there's no jumping or bouncing so it's easy on your legs, while at the same time making your legs strong. It builds stamina and is fantastic as a cardiovascular workout."
Sure Tahitian dancing looks like a lot of fun. But how hard is it? I mean, have you ever seen the speed of those hips move? Then there's the coordination and rhythm factors.
So last week, I decided to try the class for myself. For the first half hour, I sat in the back and observed. Then, with the encouragement of Barros, I got up and followed along.
Within minutes I could feel my abdominal muscles being worked. I may not have looked as graceful as the other students, but Iwas having fun.
By the end of the class, I had developed quite a sweat, and I only took part in half of it.
"Tahitian dancing, it works your quads, your gluts, your abs and your back too," says Reina Ahern, who has been dancing Tahitian for 13 years. "It's also the biggest stress releaser from my busy resident lifestyle (she's a resident OB/GYN at Kapiolani Medical Center for Women and Children).
"Kaipo teaches students of all ages, with the oldest in their 70s. And I think it's great for them because they're thinking and learning the routine, and even working on their balance and coordination. It keeps their mind sharp, and it's just very exciting and energetic. For me, I like it because it keeps me in shape, it's a good group of friends, and I just love dancing."
One of the many benefits of taking a fitness class is that it's a scheduled time you can mark in your calendars. It's also a great way to meet and make new friends.
"It's really nice to come to a class where people of all ages, shapes and sizes can come and be comfortable to work and move their bodies and push their bodies," adds Krista Steinfeld. "I think this class really helps women to accept and love their bodies and to really take care of themselves.
"This is one thing I've been consistent with because I love it. And I think that's the best health benefit — it keeps you coming back."
The Tahitian dance class is held every Wednesday from 5:30 to 6:30 p.m. and every Thursday from 8 to 9 p.m. at the Honolulu Club.
Cost is $10 per class. Sign up at the hospitality desk. Bring a lavalava/pareo or large scarf to wrap around your waist. For more information, call 543-3974.
"Once you hear and feel the drums," says Barros, "you're hooked forever."
Most Recent Comment(s):
Commenting is not available in this weblog entry.