Tahitian Workout

By
.(JavaScript must be enabled to view this email address)
Friday - June 23, 2006
|
Share
Del.icio.us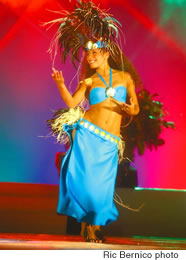 Miss Hawaii 2006 Pilialoha Gaison
gets a daily workout as a dancer
with Tihati Productions
As you watch newly crowned Miss Hawaii Pilialoha Gaison dance Tahitian, you can't help but wonder how did she get that body?
Well, for 22-year-old Gaison, it started as a child with a sports-minded family - three athletic brothers and a dad who played in the NFL.
Her brother Kapulani, 21, currently plays football for Chapman University; Iokepa, 19, plays football for the University of Utah; and Wakinekona, 11, paddles for New Hope and was recently selected to represent the United States in a soccer tournament in Japan next month.
And, of course, there's her dad Blane Gaison. A former star quarterback for the University of Hawaii and member of the Atlanta Falcons, Blane is currently the athletic director at Kamehameha Schools.
"My dad works out a lot," says Gaison. "He wakes up every day at 4 a.m. and goes running and every Saturday he wakes up early to play basketball with his old school friends. They never miss a Saturday, even if it's Christmas morning."
In high school, Gaison herself played soccer, was a cheerleader, paddled, kayaked and participated in track and field. She also coached the Kamehameha Schools cheerleading team for the past five years.
"My father used to be the football coach at Kamehameha and he was a hands-on coach," notes Gaison. "And he instilled that in me. When I coached cheerleading, if I say they need to run, I'll go with them. If I say they need to do push ups, I'll do it with them."
Gaison, who stands at 5-foot-4-inches tall, is a professional dancer for Tihati Productions, performing at its show "Creation - A Polynesian Journey" at the Princess Kaiulani Hotel, as well as special events. This past Monday, she took part in a special performance for Oprah Winfrey and her staff in Maui.
For the Miss Hawaii Scholarship Pageant held earlier this month, Gaison incorporated pilates into her training at 24 Hour Fitness in Kaneohe, as well as core training exercises.
"I have big bones, so with weight training I have a tendency to bulk up," she says. "So, instead I did mostly pilates which helps with lengthening the muscles, and core training such as ab crunches and the ab roller."
Along with her daily cardio from her occupation as a dancer, Gaison also runs three miles just about every day.
She also gets plenty of training tips from boyfriend Kalai Miller, a Honolulu firefighter and former Baywatch star.
As for her diet: no red meat because she doesn't like the taste of it and lots of fruits and yogurt.
"Obesity is a problem that society faces today, but if we can help encourage parents to get their kids involved in programs such as AYSO or the Police Athletic Leagues (PAL), I think it'll help to make their future healthier and brighter," says Gaison. "Being involved in sports is not only good for your health, but it also teaches you discipline, time management, dedication, teamwork and taking care of your body because you only have one.
"I believe a healthy lifestyle starts at home. If your kids aren't introduced to it, it's a lot harder when they become adults."
Most Recent Comment(s):