Taking It To The Trails At Kualoa

By
.(JavaScript must be enabled to view this email address)
Friday - November 30, 2011
|
Share
Del.icio.us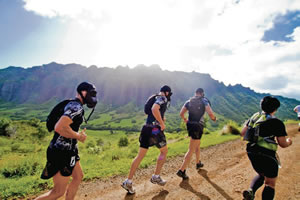 Members of Team X-T.R.E.M.E. at last year's XTERRA Trail Run World Championship at Kualoa Ranch. XTERRA photo
The XTERRA Trail Run World Championship half-marathon takes off at 9 a.m. Dec. 4 at the picturesque Kualoa Ranch, with some of the world's fastest trail runners competing for $10,000 in prize money, which is awarded to the top seven men and women.
The event also hosts 5K and 10K trail runs, a free OC-16 Kids 1K race and an adventure walk, making it a great activity for the entire family.
Among those who have already signed up are members of the newly formed 9th Mission Support Command Physical Fitness Club based at Fort Shafter. Its mission is to promote physical fitness for the approximately 3,400 reserve soldiers in its command.
"We want to get people involved in local races, so what we do is we will sponsor soldiers and their family members by paying for their entry fees. It also gives them a goal of something to aim for," says club president Maj. Martin Naranjo, plans officer with the 9th Mission Command. "Physical fitness is a very important aspect of being in the military, and this promotes them to train on their own. As reserve sol diers, they might not have the opportunity to wake up every morning to train every day."
Also on the course will be four runners from Team X-T.R.E.M.E, a non-profit organization with an ongoing mission to honor, empower and motivate wounded servicemembers of the Iraq and Afghanistan wars. The team features active and veteran military members who participate in various races across the country to honor the sacrifice of wounded warriors through feats of mental and physical endurance.
They also always run races in formation to emphasize teamwork, and will run the entire 21-kilometer course at Kualoa Ranch with gas masks secured to their faces to symbolize their initiative.
Anyone can participate in the XTERRA Trail Run World Championship, and registration is still open online through Dec. 1 at xterratrailrun.com.
Or sign-up in person Dec. 3 at Waikiki Beach Walk (by Yard House on Lewers Street) from 9 a.m. to 5 p.m. Entry fee is $55 for the 21K, $35 for the 10K, $30 for the 5K, and $25 for the adventure walk.
Most Recent Comment(s):