The Black Belt Pageant Queen

By
.(JavaScript must be enabled to view this email address)
Friday - August 15, 2007
|
Share
Del.icio.us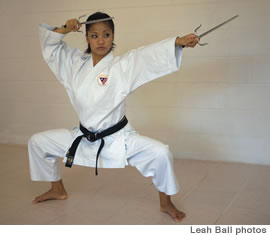 Serena shows off the Chatanyara Kushanku
On stage, Miss Hawaii Teen USA Serena Karnagy fits her title beautifully.
But what you may be surprised to know is that this beauty queen, who won both the swimsuit and evening gown competitions at the Miss Hawaii Teen USA pageant earlier this year, is a first-degree black belt in karate.
"I've been doing karate since I was 6 years old, competing since I was 9, and I turned black belt when I was 11," explains Karnagy, who left for Pasadena, Calif., last weekend for the Miss Teen USA pageant. "I should be a second-degree black belt, but I haven't been training as much because I've been preparing for the pageant."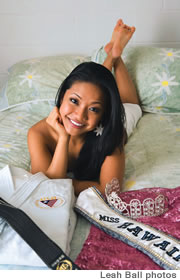 Serena with her black belt and sash
Throughout the years, Karnagy, who trains with the Hawaii Karate Association and is a senior at Punahou School, has won more than 100 medals from various karate competitions.
"Karate is the thing I've been doing the longest and the thing I've been doing most consistently," notes Karnagy. "It's given me a lot of confidence and discipline. And it's taught me to always try hard and never give up."
Despite the obvious differences, Karnagy says her background in karate has helped her to be successful in her other hobbies, such as beauty pageants.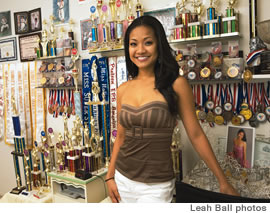 Serena with her countless medals, trophies and awards
"The paradox between the karate me and the pageant girl me is unreal," she says. "In karate, the majority of my friends are boys, so you'd usually see me sweating through my gi (karate uniform) with my hair slicked back in a ponytail and my face fixed in a death stare, just trying to keep up with them. In the pageant world, you'd probably never see me break a sweat, and I'm always poised and smiling. You'd never think the two are the same person!
"However, I do think that having the two different personas gives me a great balance in my life. The good things I get from each of these passions benefit the other. It's also what makes me unique and what gives me humility. I know that there is no such thing as success without the work, and also no such thing as passion without confidence."
Cheer on Karnagy as she competes in the Miss Teen USA pageant on Friday, Aug. 24, in Pasadena. The Donald Trump-owned pageant, which will be hosted by Mario Lopez, airs live on NBC at 7 p.m.
Most Recent Comment(s):