The First Signs Of Skin Cancer

By
.(JavaScript must be enabled to view this email address)
Friday - July 11, 2007
|
Share
Del.icio.us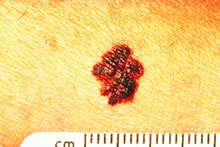 An example of melanoma
A few weeks ago I wrote about preventing sun damage. But what do you do if the damage has already been done?
The first thing to do is to get screened for skin cancer, especially if you have any signs or symptoms of the deadly disease.
According to the Mayo Clinic, warning signs of skin cancer include:
* A pearly or waxy bump on your face, ears or neck
* A flat, flesh-colored or brown scar-like lesion on your chest or back
* A firm, red nodule on your face, lips, ears, neck, hands or arms
* A flat lesion with a scaly, crusted surface on your face, ears, neck, hands or arms
* A large brownish spot with darker speckles located anywhere on your body
* A simple mole located anywhere on your body that changes
in color, size or feel, or that bleeds
* A small lesion with an irregular border and red, white, blue or blue-black spots on your trunk or limbs
* Shiny, firm, dome-shaped bumps located anywhere on your body
* Dark lesions on your palms, soles, fingertips and toes, or on mucous membranes lining your mouth, nose, vagina and anus
If you notice any of the abovementioned signs, don't wait! Make an appointment with your dermatologist, or stop by Macy's Ala Moana this Saturday (July 14) for a free skin cancer screening during its Melanoma and Skin Cancer Awareness Day.
Events include: 10 a.m. to 2 p.m. - Safe Sun Activities, Level 2
Receive a complimentary screening by participating dermatologists, and meet with experts from the Hawaii Skin
Cancer Coalition. Learn about the risk factors and prevention of premature aging, skin damage from the sun and skin cancer.
There also will be discussion on car and home tinting, sun protection for your eyes, as well as a sunglass and eyeglass evaluation, and, of course, a Sun Protection Wheel of Fortune where you can spin the wheel for prizes.
Noon to 1:15 p.m. - Safe Sun Seminar, Special Events Room, Level 3
Get an overview of sun protection issues, including the latest research, and take part in a question and answer session with a physician and skin cancer patients.
Noon to 4 p.m. - Safe Sun Events, Cosmetics and Fragrance, Level 2
Check out the latest sun protection products, and enjoy an informal fashion show of the season's hottest beach attire and an autograph session with various professional surfers.
1:15 to 2 p.m. Free Skin Cancer Screenings, Special Events Room, Level 3
If in doubt, check it out! Early detection is key to successful treatment.
Have a safe and fun summer in the sun!
Most Recent Comment(s):